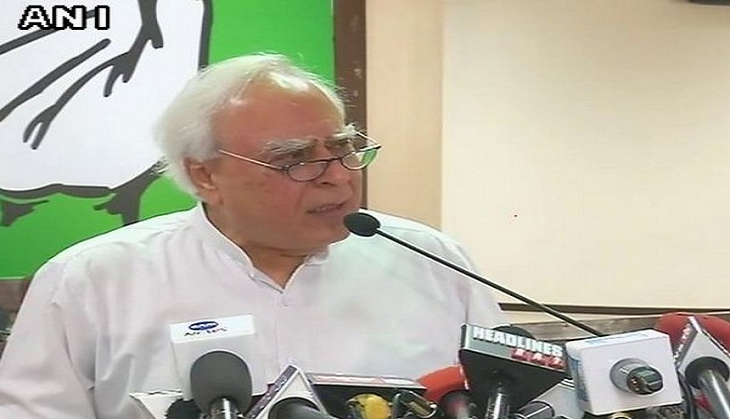 In the wake of the Income tax department conducting raids at Karnataka Minister DK Shivakumar's residence where 44 Congress MLAs are holed up, former law minister Kapil Sibal on Wednesday said that the Bharatiya Janata Party (BJP) wants no one on the Opposition benches.
While pointing guns at the BJP, Sibal said that the saffron outfit wants that all politicos should join their bandwagon.
"They want no one on the opposition benches and want everyone with BJP. We won't let this happen," said Sibal.
Leader of Opposition in Lok Sabha Mallikarjun Kharge asserted that the BJP-led Centre was resorting to raids in wake of the Rajya Sabha polls in Gujarat
Kharge, defending his party in the Lower House, said that the ruling dispensation would not be successful in trying to pick on their party leaders.
"Just to defeat one Rajya Sabha candidate, they are doing all this, but they will not be successful," said Kharge.
Meanwhile, in the Rajya Sabha too, the Congress Party earlier today cornered the government over the Income Tax raids.
The Rajya Sabha witnessed protests by the opposition against the "witch-hunt by the government".
Congress leader Anand Sharma said it is now becoming a trend to blatantly misuse powers of the state.
"The minister and his brother, an elected representative coordinating in stay of Gujarat MLAs that is why it is a targeted timing," said Sharma.
Attacking the BJP, another Congress leader Ghulam Nabi Azad said, "Conduct raids on residences of those people from your party (BJP) who are offering Rs 15 crore."
The IT department earlier in the day raided the residence of Shivakumar and the Eagleton Golf Resort in Bengaluru - where 44 Gujarat Congress MLAs are currently holed up.
Earlier also, the Congress had accused the BJP in the state of horse-trading ahead of the Rajya Sabha elections scheduled for August 8.
This development came after at least six Congress MLAs in Gujarat resigned from the party to join the BJP.
-ANI