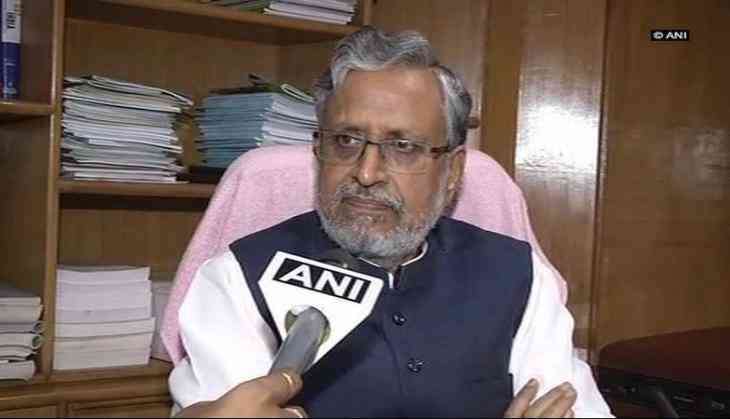 Bharatiya Janata Party (BJP) leader Sushil Modi on Friday said that the saffron party is waiting for Bihar Chief Minister Nitish Kumar to break his silence and ask for state Deputy Chief Minister Tejashwi Yadav's resignation.
"When even after a three-day ultimatum, Tejashwi is not giving a resignation, he is challenging the right of the Chief Minister. I don't think there can be anything more insulting than this. The BJP is just waiting for the Chief Minister to speak on this matter and ask for Tejashwi Yadav's resignation," he said.
"I don't think Nitish Kumar will maintain silence in this matter. I am sure Nitish Kumar will dismiss Tejashwi Yadav, if he doesn't give his resignation. Still, I cannot guarantee about it," he added.
Meanwhile, dubbing the reports of split between the Rashtriya Janata Dal (RJD) and Janata Dal (United) (JD(U)) as BJP-driven agenda, Tejashwi, earlier in day, laughed off the same, saying people should not be perturbed by such reports of split in the mahagathbandhan.
Taking to his Twitter, Tejashwi wrote he cannot help but laugh at the 'disruptive sources' carrying out an agenda of the BJP.
"Utpaati sutro ke naam se media ka ek varg BJP ka hai jo ek sootriya karyakram chala raha hai uspar zoro se hasi aa rahi hai.
Bhoonja khao, mast raho," Tejashwi tweeted.
Earlier, the JD(U) also denied any rift within the allies, maintaining that the alliance is working successfully.
Earlier last week, the CBI registered a corruption case against Lalu Yadav, his wife Rabri Devi, son Tejashwi Yadav; former Indian Railway Catering and Tourism Corporation (IRCTC) Managing Director P.K. Goyal; and the wife of Lalu's confidante Prem Chand Gupta, Sujata on allegations of awarding the tender for development, maintenance and operation of hotels in Ranchi and Puri in 2006.
The CBI later questioned Rabri Devi and Tejashwi Yadav.
The case was registered on the allegations of awarding the tender for development, maintenance and operation of Hotels at Ranchi and Puri to a Private Company dealing with Hotels in the year 2006.
The investigative agency also conducted searches at 12 locations across Patna, Delhi, Gurugram and other places.
The RJD supremo, however, refuted the allegations against him and called it a political conspiracy hatched by the BJP.
-ANI