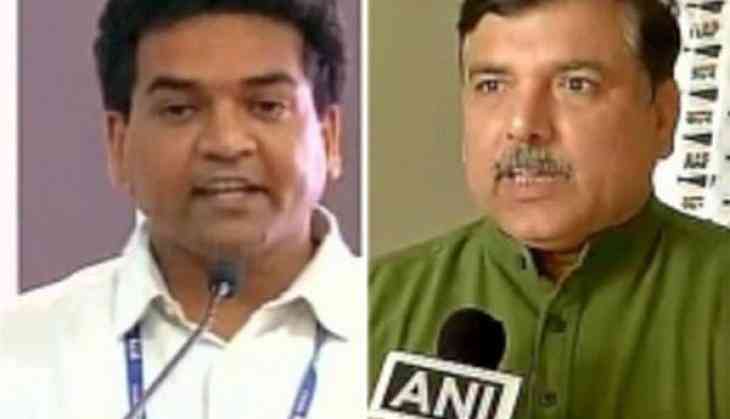 Dubbing the allegations levelled by Aam Aadmi Party (AAP) MLA Kapil Mishra as baseless, party leader Sanjay Singh on 8 May said it is a conspiracy by the Bharatiya Janata Party (BJP) to dethrone it.

Singh said ignoring the question of the time at which he went to Delhi Chief Minister Arvind Kejriwal's residence in itself confirms that he never went there.

"He did not answer to my statement that he is working at the behest of the BJP. He just walked out without answering this. In his letter, Kapil Mishra wrote that the ACB is working under pressure. Under whose pressure? Under the BJP. And today, he is going to that ACB only which shows he speaking the language of the BJP," Singh told ANI.

He further said that just because Singh has been sacked, he is levelling such baseless allegations, adding that this is a conspiracy by the BJP to dethrone the AAP.

Delhi Health Minister Satyendra Jain also reverberated the same, saying that the BJP has been after him since long but putting an allegation of corruption against Kejriwal is something which nobody can believe.

"I was waiting since yesterday to see to what extent would Kapil Mishra lie. He has crossed all the limits of lying. I never went to the Chief Minister's residence on May 5. So when I didn't go there is no question of any sort of money exchange. It is so stupid. The BJP is after me since long. It could have manufactured one more case against me instead of naming Arvind Kejriwal. He is the sort of person who is very honest. He has never indulged in fraud. What Kapil Mishra is saying is shameful," Jain told ANI.

Responding to a poser on Mishra's fresh allegations on Kejriwal in regard to his brother-in-law, Jain said he should at least spare those who are dead.

Mishra, earlier in the day, described Kejriwal as a 'power drunk' individual indulging in huge acts of corruption for his family with the help of his Cabinet colleagues.

"I personally informed Sanjay Singh about the Chhattarpur seven acre farm house deal and about the PWD Rs. 10 core fake bill scam, Satyendra Jain told me. It was done for Kejriwal's brother in law," Mishra said.

"The Arvind Kejriwal we have worshipped and prayed for is not the same man today. The post has changed him. I want to ask him one thing, will he leave the post after Satyendra Jain goes to jail?" he asked.

Mishra also launched a scathing attack on the AAP leadership for making allegations that he was colluding with the BJP.

"Every AAP leader knows that if someone who is the staunchest critics of the BJP, who has publicly criticised their policies on Kashmir and Pathankot incident and MCD corruption, it is none other than Kapil Mishra," he added.

"I challenge them to collect at least one evidence against me being hand in gloves with the BJP. Whoever questions them, they are branded as agents of Modi," he added.

Mishra also dared the AAP leadership to expel him from the party.

"I will never leave the AAP. They have convened a PAC meeting today. Try removing me from the party. I will never allow those people who are holding discussions behind closed doors to kick me out of the party," he said.

He said he would go to the Central Bureau of Investigation's office to lodge an FIR on the tanker scam and be present as a witness.

"Tomorrow I have got an appointment with the CBI at 11.30 a.m., will officially lodge an FIR and be present as a witness," he added.

Mishra also alleged that his number is being shared on social media platforms and that he was getting death threats from people close to Kejriwal.

"On Twitter and Facebook my number is being shared, I am getting death threats from those who are close to Kejriwal," he said.

Earlier, Mishra submitted documents related to the tanker scam to the Anti-Corruption Bureau (ACB), while saying that he also apprised the agency about the misuse of the state government's money.

"I informed the ACB about the misuse of government money by the AAP. I also informed that the state government was trying to shield a corrupt Sheila Dikshit. I have also given information of the tanker scam to the ACB," he said after leaving the ACB office.

Later ACB chief M.K. Meena assured of action based on his statement.

"We will record the statement of Kapil Mishra and the law will take its own course," he said.
-ANI