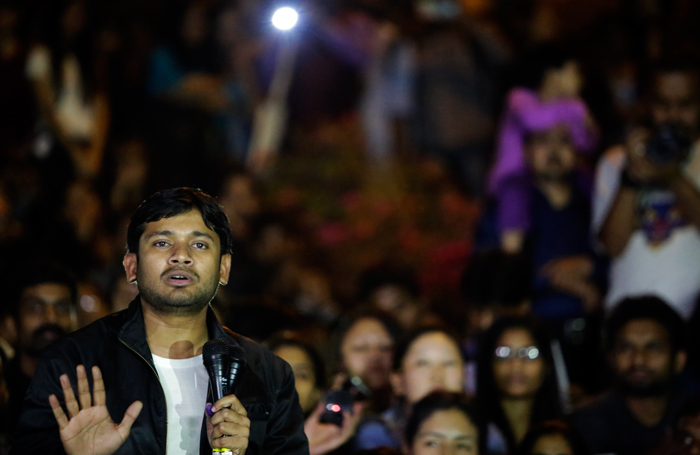 The Bharatiya Janata Yuva Morcha (BJYM) has filed a police complaint against JNU student leader Kanhaiya Kumar alleging that he has defied bail conditions by making "anti-national" statements. The complaint has been filed by BJP's youth wing in Vasant Vihar police station against Kumar as well as JNU professor Nivedita Menon.
Kumar has again come under fire for addressing addressing students at a Women's Day march late on 8 March when he reportedly said: "No matter how much you try to stop us, we will speak up against human rights violations. We will raise our voice against AFSPA. While we have a lot of respect for our soldiers, we will still talk about the fact that in Kashmir women are raped by security personnel."
The BJYM said that by making such statements Kumar has violated the Delhi High court's order. In a statement, the party wing said:
"Despite the submission of an undertaking before court, Kanhaiya has yet again addressed a gathering of students and uttered poisonous words against the Indian Army, labelling them as rapists of Kashmiri Women."
The BJYM has also alleged that JNU professor Nivedita Menon has been spewing hatred against the Indian Armed Forces in public meetings as well. "She made statements like it is recognised worldwide that India is illegally occupying Kashmir," the BJYM statement said.