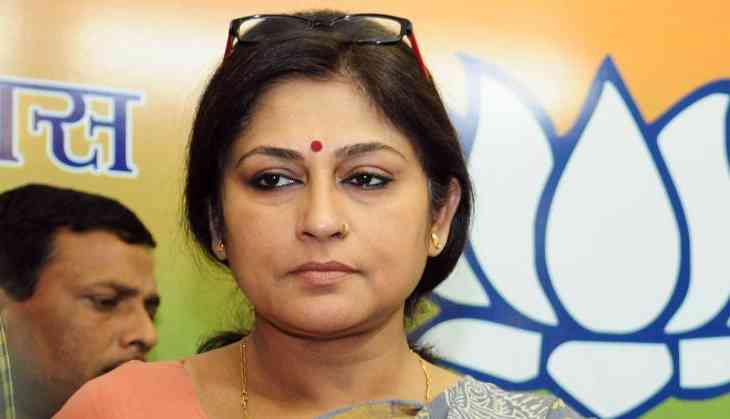 Bharatiya Janata Party (BJP) Rajya Sabha member Roopa Ganguly on Wednesday criticised All India Trinamool Congress (TMC) for allegedly creating disruptions during BJP chief Amit Shah's roadshow in Kolkata saying, a protest is allowed in a democracy, but 'throwing stones is not a protest.'
"Anyone can protest but it doesn't mean tearing down all the posters. It is not legal. TMC people can stand to give a speech but the question is tearing poster-banner and throwing stones is not protest", Ganguly told ANI.
She also denied any role of BJP workers in smashing of Ishwar Chandra Vidyasagar's bust inside Vidyasagar college premises and said, "The route of our roadshow was not inside the Vidyasagar College and we were peacefully following the road-show. Our party workers were nowhere near the Vidyasagar statue. The stone pelting has started from inside the college and the way West Bengal Chief Minister promptly reached the place, people are questioning her intentions. This drama will no longer be tolerated in West Bengal."
Raising questions over the identity of people pelting stone from inside Vidyasagar College, she further added, "TMC is now trying to put the blame of CPM but I want to say that no leaders of CPM can ever order to vandalize Ishwar Chandra Vidyasagar's bust."
This comes a day after clashes broke at the mega roadshow of BJP president Amit Shah in Kolkata resulting in utter chaos after sticks were hurled at his convoy and police resorted to lathi-charge to disperse the crowd. Clashes reportedly broke out on Tuesday after some miscreants started throwing sticks at the convoy in which Shah was travelling in.
Meanwhile, the Election Commission of India will today hold a meeting with West Bengal observers on poll violence in the state.
-ANI