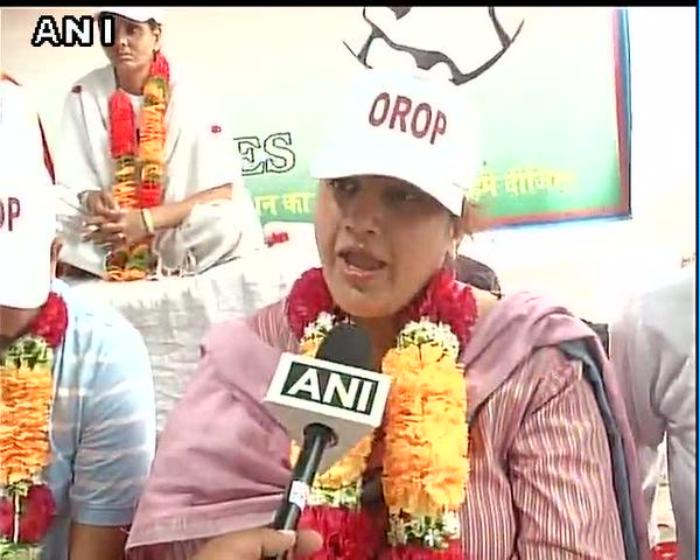 Former Army Chief and current Minister of State for External Affairs in BJP government, VK Singh's daughter Mrinalini joined the ex-servicemen protesting for OROP at Jantar Mantar on 23 August.
"I am here to support the cause of ex-servicemen because I too am an ex-serviceman's daughter. I feel that the OROP should be implemented as soon as possible," she told the media.
"Even my grandfather was a soldier, and may be my son would also become one. I hope the government will soon heed to this demand. It's long overdue. I did take up the issue with my father. He has written a letter to the Prime Minister," she added.
After this news came into light, twitterati started sharing their reactions to the move:
A soldier never backs out in the line of fire, Govt should not back out of #OROP commitment: Mrinalini, MoS @Gen_VKSingh 's daughter

— GAURAV C SAWANT (@gauravcsawant) August 23, 2015
Mrinalini should write her father's biography: Two birthdates and a full tension father

— Rakesh Kadam (@RakeshKadam) August 23, 2015
AAP">@ColKGSharma7AAP Gen VK Singh ne apni beti Mrinalini ko aaj JantarMantar Veteran Rally mein bheja, kya Col Rathore bhi kissi ko bhejenge ?

— #VETERAN (@noidaveteran) August 23, 2015
Cheap trick by Modi's Minister VK Singh sends daughter Mrinalini to do drama on OROP. To save his image. If he is concerned why don't resign

— Aniruddh Sharma (@GreatIndiaFirst) August 23, 2015
Mrinalini says Modi fulfills promise he makes. Then why sit on Dharna. He promised OROP. Her message: call off Dharna...pure Govt sponsored.

— Narendra Pandey (@ProfNKPandey) August 23, 2015