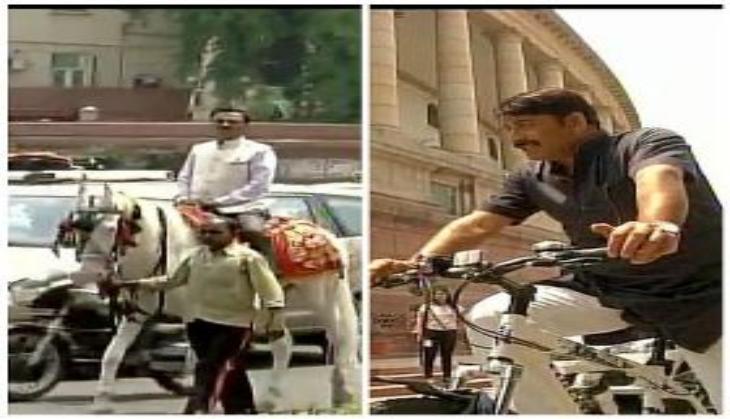 That the BJP hasn't exactly taken to Delhi Chief Minister Arvind Kejriwal's Odd-Even scheme very kindly is a known fact.  
BJP MPs are of the opinion that with the second session of Budget Session on MPs are finding it very difficult to commute. But a rule is a rule and they have to follow it, BJP leaders are trying to steal Kejriwal's thunder by resorting to different measures ranging from innovative to absurd to express their ire against the Odd-Even scheme.  
Here's what they are doing to vent their anger: 
BJP MP Ram Prasad Sharma today came to Parliament on a horse in protest against the odd-even rule.
Drawing the attention of the media, Sharma alleged that the AAP government was indulging in drama.
"We want to appeal to the Delhi Government to either provide us vehicles or exempt us from the odd-even scheme. We are performing a constitutional duty," said Sharma while seated atop a white horse.
"The people, who have crores of money, can only afford to have two cars. We haven't been provided with anything. Either you (the Delhi Government) exempt us or stop this lunatic move," he added.
Justifying his horse ride to the Parliament, the MP from Assam asked Delhi Chief Minister Arvind Kejriwal to provide facilities to the lawmakers so that they do not face problems.
"I am here for the past three days. I am an MP from Assam. They haven't provided us any bus. They gave us only five buses. Can 750 Members of Parliament commute in five buses?" Sharma asked.
"I have an even numbered car, how am I supposed to come on an odd day..Even cycle needs some oil, but the horse needs only grass and it is pure. Please don't harass common people," he added.
Another BJP MP Manoj Tiwari looked quite exhausted as he came to parliament on a cycle.
Talking to the media, he said that 'majboori' forced him to take this step as he was left with no other option.
"I am following the odd-even rule. My car is even numbered and since today is odd day, I have come like this...I am not saying that this should become a tradition, but those who are interested can come like this," Tiwari said.
BJP MP Vijay Goel, who had last week paid fine for deliberately violating the odd-even plan, today arrived in the Parliament with stickers displayed on his car opposing the rule.
However, the Arvind Kejriwal Government had something to cheer about despite all criticism as there was another BJP MP Anshul Verma, who followed the odd-even scheme in Delhi by taking the special bus to Parliament.
The MP from Uttar Pradesh's Hardoi Lok Sabha constituency, however, said that he took the bus to mark his protest.
Many MPs had protested against the odd-even scheme and demanded cabs to ferry them to the Parliament instead of the DTC buses.
In view of the Parliament session, the AAP Government had rolled out special air-conditioned bus service to ferry the MPs.
The 'MP Special' buses, however, lukewarm response from the parliamentarians.
BJP MP Paresh Rawal had earlier on Monday violated the odd-even rule by reaching the Parliament in his even-numbered car following which he apologised to the Delhi Chief Minister.
Going hammer and tongs against the Delhi Government over the move, several other MPs have accused Kejriwal of introduced this scheme to gain "cheap popularity".
However, it wouldn't be wrong to say that all these extreme and attention grabbing measures by BJP MPs hasn't exactly dampened the spirit of Odd-Even scheme. Instead it has further reinforced the fact that our politicians can when need arises can use public transport and green means of transport like cycle. 
The odd-even rules, whose violation attract a penalty of Rs. 2,000 under provisions of Motor Vehicles Act, are applicable between 8 a.m. and 8 p.m. except on Sundays. 
With inputs from ANI