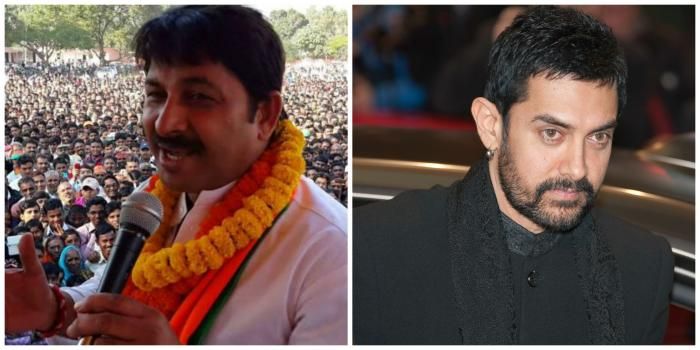 Expressing disappointment over Aamir Khan's statement that he and his wife had considered moving out of the country over the alarming rise of intolerance, Bharatiya Janata Party (BJP) leader Manoj Tiwari on Tuesday said that he was 'saddened and shocked' by the Bollywood actor's remark.
Tiwari also said that Aamir had 'disgraced' the nation by saying such a thing.
"I'm deeply saddened and shocked by his statement. He has said such a big thing and disgraced the nation, he has done a wrong thing," Tiwari told ANI.
"I am thinking what people like me who've showered him (Aamir) with their love, affection and respect must be going through," he added.
Bollywood actor Anupam Kher had also lashed out at Khan over his remarks saying the latter should 'spread hope instead of fear'.
Read More: Anupam Kher urges Aamir Khan to spread 'hope' and not 'fear'
Questioning Khan's reaction, the veteran actor asked why he had not raised his voice earlier when the situation had been even worse.
Speaking at the eighth edition of the Ramnath Goenka Excellence in Journalism Awards, Khan had yesterday expressed "alarm" and despondency over the rise in such cases "in the last six to eight months".
He had said that a sense a sense of "insecurity" and "fear" had seeped deep within society.
"When I go home and talk to Kiran (Aamir's wife), for the first time she says,"Should we move out of India?," Khan said.
Read More: After SRK, Aamir Khan speaks about growing intolerance in India
"She (Kiran Rao) fears for her child and what the atmosphere around us will be," he added.
(ANI)