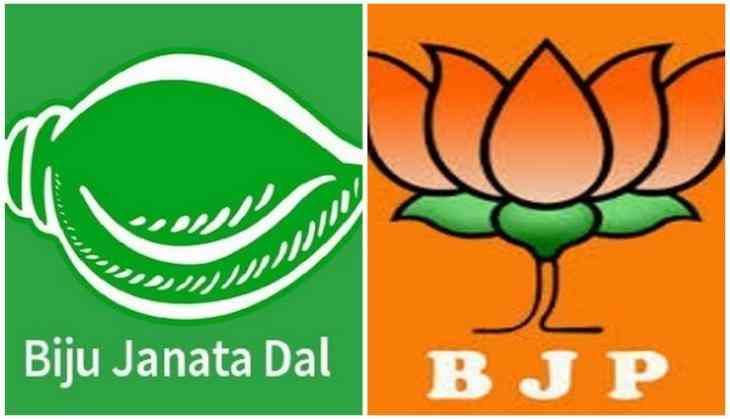 The ruling Biju Janata Dal (BJD) slammed the Bharatiya Janata Dal (BJP) after Union Minister Jayant Sinha criticised the Odisha government for lack of cooperation in various developmental projects and stressed on the need for a 'double engine' government to speed up the development process.
BJD also accused the BJP government in the centre of neglecting the projects meant for the state welfare.
Responding to the Sinha's statements, BJD spokesperson Sasmit Patra said: "Union Minister Jayant Sinha has not been properly informed by the local BJP leadership in Odisha or else he would not have given such statements. The BJD Government has always been cooperative for the development of Odisha but the BJP Government in Centre has neglected projects."
At an event in Bhubaneswar on Sunday, Sinha accused Odisha Chief Minister Naveen Patnaik led BJD government of stalling development projects worth Rs 1.36 lakh crore in the state. He said that the BJP should be voted to power at the Centre and in Odisha as "double engines" speed up development in the state.
"The Central government is trying its best for the development of Odisha but without the state government's support, it cannot be possible. Odisha needs double-engine government because if there will be double-engine government, then we can do it in a better way and with a higher pace," said the Union Minister of State for Civil Aviation.
Sinha said, "the BJD government is not following cooperative federalism because they do not believe in it but we believe and the GST is the biggest example of cooperative federalism."
The BJD spokesperson said, "The second Brahmani Bridge, Coastal Highway, Ispat Medical College and Super Speciality Hospital and improvement of National Highway conditions have not been done so far despite many promises made."
Patra further questioned: "When there are no land acquisition or clearance issues on these at all, why is the BJP silent on its non-performance?"
"On Ayushman Yojana also, the BJD government has done one better than the centre. The Biju Swasthya Kalyan Yojana is far better and provides 7 lakh health assurances for women is something that probably BJP leaders of Odisha haven't informed Sinha due to which he made those statements," said Patra.
-ANI