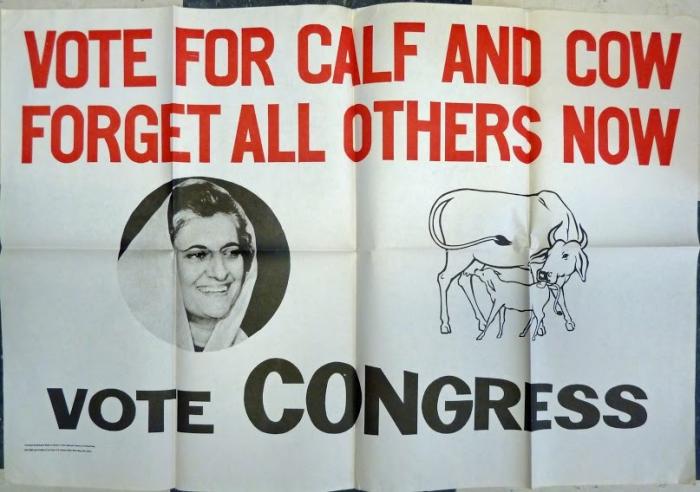 Elections are showtime for Indian politics. It's the time for creative campaigns, verbal warfare and yes, the all important catchy 'one-liners'.
To put in SRK's style - 'Don't underestimate the power of a' one-liner'. And this is indeed true as many parties have won elections riding on the success of their creative slogans in the past, and some others have lost when their catchphrases failed to impress the electorate.
As Bihar prepares to vote in what can be arguably called the most fierce poll battle of 2015, let's have a look at the most memorable political slogans through the ages.
1) Jai Jawan, Jai Kisan (1965)
(Hail the Soldier, Hail the Farmer)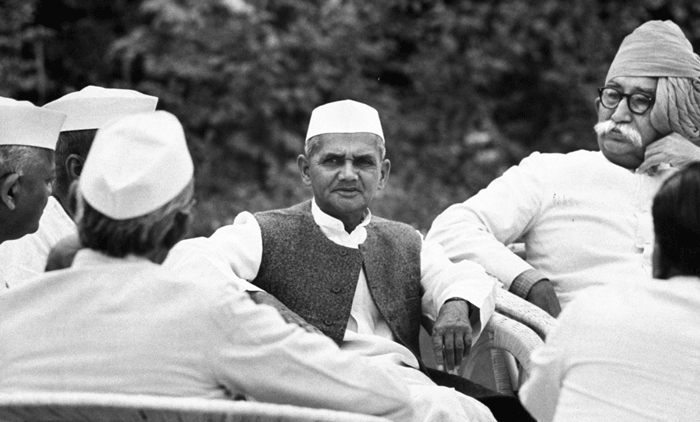 This was perhaps the first post-independence political slogan that caught everyone's imagination.
It was coined by the second Prime Minister of India, Lal Bahadur Shastri in 1965 against the backdrop of war with Pakistan and an imminent food crisis. The slogan got the nation to rally behind the Congress government which retained power in the 1967 polls.
2) Garibi Hatao (1971)
(Eradicate Poverty)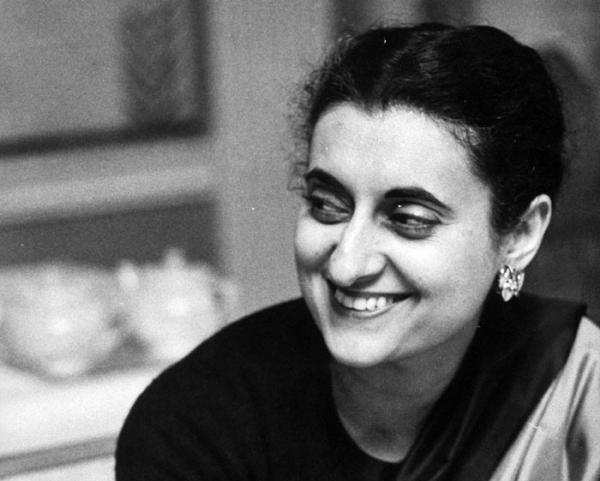 Coined by Former Prime Minister Indira Gandhi, the slogan was a massive hit. The popularity earned Congress a landslide victory in the 1971 elections.
3) Indira is India and India is Indira (mid 1970s)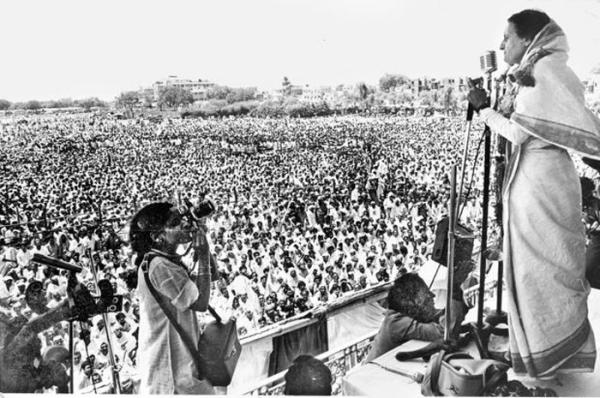 A powerful slogan which related directly to a political leader, this one was crafted solely for Indira Gandhi. Congress party member Dev Kant Baruah coined the slogan "Indira is India and India is Indira" in the mid-1970s. It was symbolic of Indira Gandhi's power at that time.
4) Indira Hatao, Desh Bachao (1977)
(Remove Indira, Save the Nation)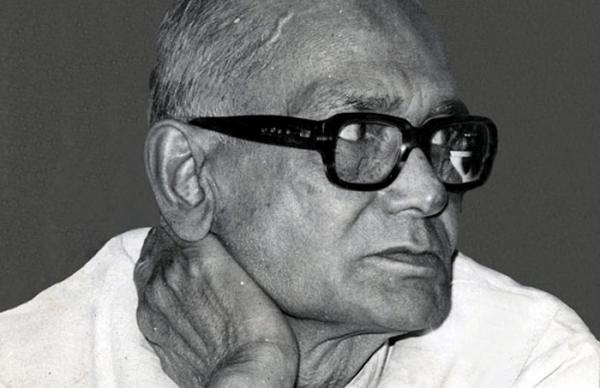 This anti-Indira slogan was coined by opposition leader Jayaprakash Narayan. It was a rallying cry for the opposition parties, who came under the umbrella of Janata Party post Emergency. It resulted in a shameful loss for Congress in the 1977 parliamentary polls.
It was also a direct opposite of the last slogan, thereby intensifying the effect.
4) Ek Sherni, Sau Langur, Chikmaglur bhai Chikmaglur (1978)
(One lioness, Hundred baboons, Chikmaglur it is!)
This hilarious one-liner was coined by former Karnataka Chief Minister Devraj Urs for Indira Gandhi's by elections from Chikkmagluru district in 1978. Her victory in the bypolls set the stage for her eventual comeback in 1980.
5) Jab Tak Suraj Chand Rahega, Indira Tera Naam Rahega (1984)
(Indira's name will live as long as the sun and moon exist)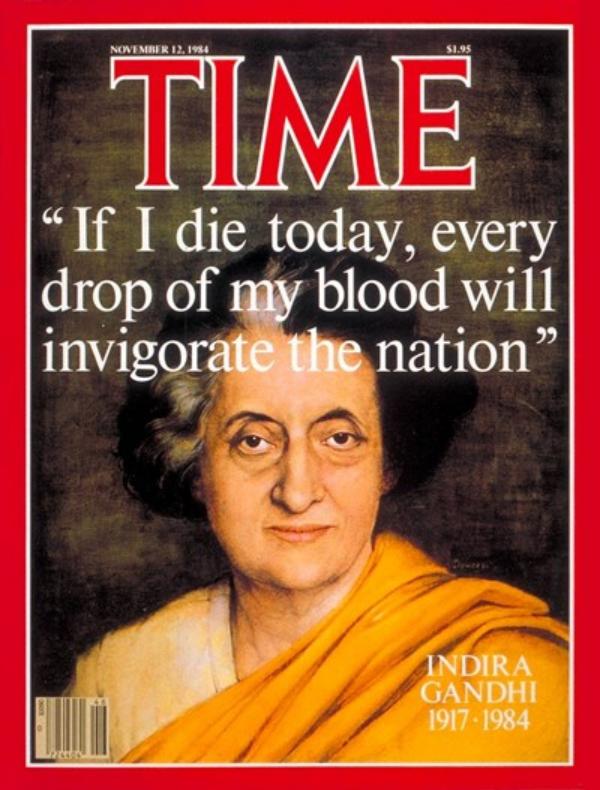 The slogan was coined for the 1984 elections after Indira Gandhi's assassination. This helped Congress garner nation-wide sympathy, ensuring its staggering victory.
6) Bari Bari, Sabki Bari, Abki Bari Atal Bihari (1996)
(We have seen several others, now it's Atal Bihari's turn)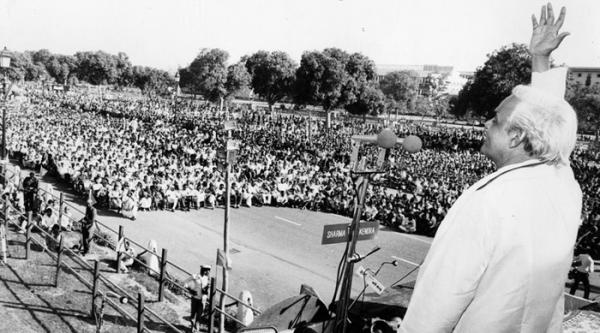 Coined at a Lucknow political rally in 1996, the slogan was used by the BJP to project Atal Bihari Vajpayee as the next prime minister. In it the party succeeded though for a very short term. Vajpayee was PM for only 13 days in 1996.
7) India Shining (2004)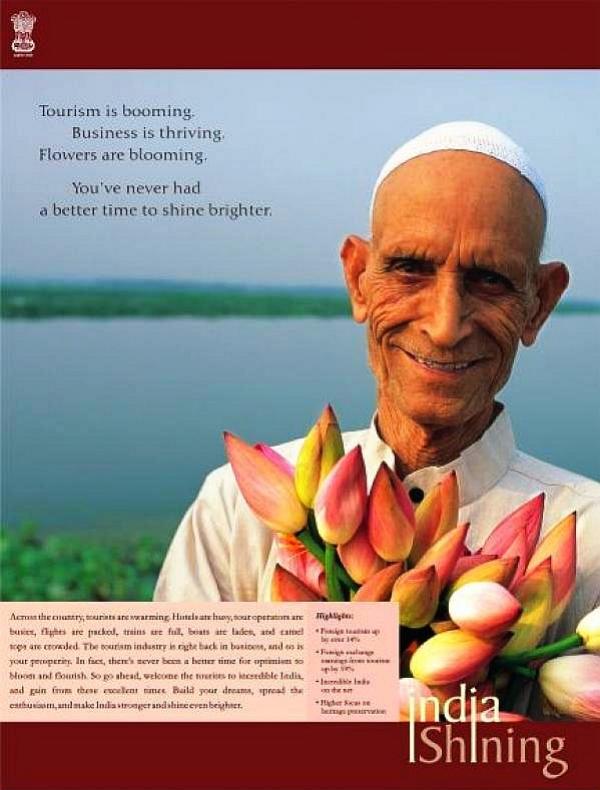 One of the most famous campaigns tailored by Bharatiya Janta Party-led National Democratic Alliance in 2004. Unfortunately, it failed to allure the voters and was accounted for the party's spectacular electoral failure.
8) Congress ka hath, Aam Aadmi ke saath (2004)
(Congress' hand is with the common man)
This was Congress' answer to BJP's India Shining in 2004. Playing on it, the common India's grand old party made a commendable comeback. It was a variation of an earlier Congress slogan that had "garib ke saath".
9) Maa, Maati, Manush (2009)
(Mother, Motherland and People)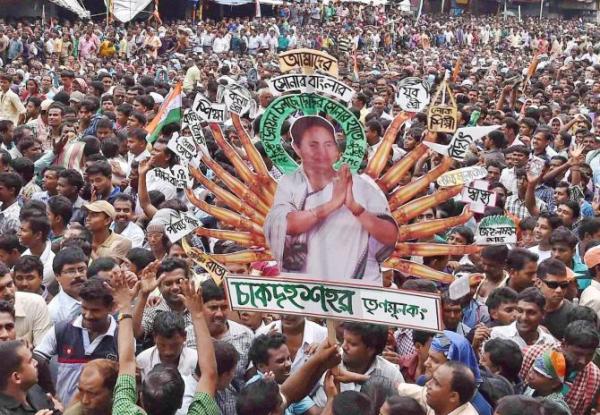 Not just a political war cry that brought down the Left Front government in West Bengal, the slogan has been used as a title for a book of poems by Mamata Banerjee, the Trinamool party magazine goes by the same name, many plays, films and songs have used the slogan.
10) Aabki Baar, Modi Sarkaar (2014)
(This time, it's Modi's government)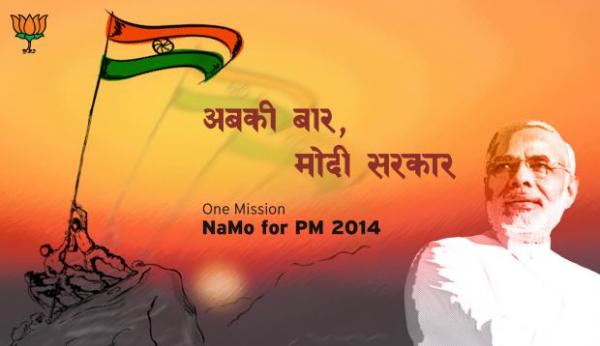 Four words that took the nation by storm in 2014. Villages, towns or cities, all were buzzing with the slogan which confirmed NDA's historic victory at the Centre.
11) Paanch saal Kejriwal (2014)
(For five years, it's Kejrwal)
Whether you are a Delhi AAP supporter or not, you may have caught yourself humming the tune back in February.
The song was composed by noted music composer and party sympathiser Vishal Dadlani and was one of the key contributors towards Arvind Kejriwal landslide victory in the 2015 Delhi Assembly elections.