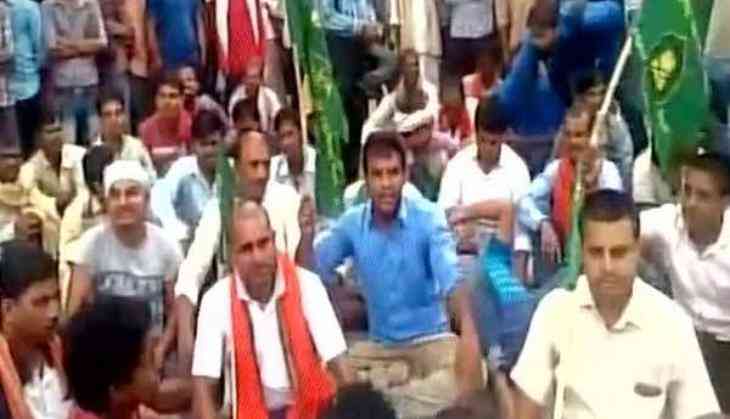 Bihar: RJD supporters block Mahatma Gandhi Setu
The Rashtriya Janata Dal (RJD) supporters blocked Mahatma Gandhi Setu, connecting north Bihar with Patna, over Nitish Kumar's resignation and his bid to form a government with the Bharatiya Janata Party (BJP).
Meanwhile, Bihar Governor Keshari Nath Tripathi has invited Bihar deputy chief minister and RJD leader Tejashwi Yadav and five other RJD MLAs for discussion.
The development came right after the large group of RJD leaders, led by Tejashwi, marched towards the Governor's residence to stage a dharna over the sudden change in time of the oath-taking ceremony of Nitish Kumar as the Bihar Chief Minister.
While marching towards the Raj Bhawan, Tejashwi said, being the largest party, the RJD should have been invited to form the government in Bihar.
"I've been defamed. The people of Bihar are watching. Being the largest party we should have been invited (to form a government in Bihar)," he said.
RJD leader and brother of Tejashwi, Tej Pratap Yadav also blatantly slammed Nitish for changing sides.
"He (Nitish) has sat in Rashtriya Swayamsevak Sangh's (RSS) lap. It is a betrayal of the mandate given by the people of Bihar," he said.
This development came following the announcement by the Bharatiya Janata Party (BJP) of change in timing of the oath-taking ceremony from 5 p.m. to 10 a.m.
The smelling foul in the same, the RJD said the amendment came following the information of the party meeting the Governor at 11 a.m.
"Earlier the oath was to take place at 5 p.m., but since now the RJD is meeting the Governor at 11 am, so he is planning to take oath at 10 a.m. This shows there is some foul play," RJD spokesperson Manoj Jha told ANI.
He further alleged that Tejashwi was only an excuse for Nitish to shift his loyalty back to the BJP.
-ANI