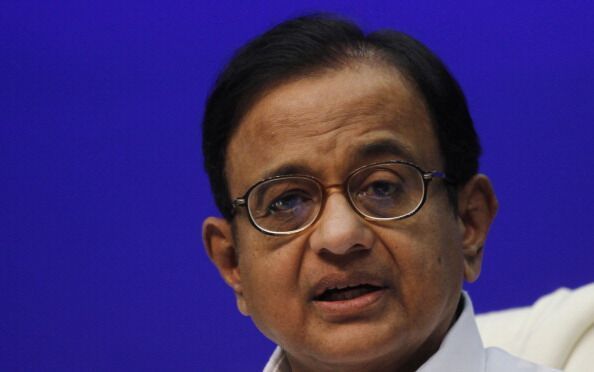 Former union finance minister P. Chidambaram on Sunday said one must not set aside the Congress' contribution in the grand alliance's comprehensive electoral win in Bihar, and added that the verdict is a rebuke to Prime Minister Narendra Modi's style of functioning.
Chidambaram said Janata Dal (United) leader Nitish Kumar and Rashtriya Janata Dal (RJD) boss Lalu Prasad Yadav may not have come together without the Congress Party's support.
"And the Congress has won a significant number of seats, I suppose 10 or so. I think the Congress must be happy that their strategy has worked very well in Bihar. And in the process, the Congress Party has also registered a very significant presence in Bihar," he added.
The senior Congress leader asked Prime Minister Modi to take moral responsibility for the Bharatiya Janata Party-led NDA's dismal show in Bihar.
"It may not be referendum on the NDA Government at the Centre. But if Prime Minister Mr. Narendra Modi, in an unprecedented manner, threw in everything into this election, no Prime Minister has ever campaigned so intensively or so aggressively in a state election. If the Prime Minister took responsibility for the campaign, then he should take responsibility of the result of the election also," said Chidambaram.
"I think it is a rebuke to the Prime Minister's style of functioning, style of speaking and the choice of issues. I think there are a lot of people, who think that his manner of speaking and choice of issues to speak on are quite inappropriate for the Prime Minister," he added.
The former union finance minister also drew attention to the ongoing debate over the growing intolerance in the country to justify his point.
"Of course, it (intolerance) is a big issue (for the BJP's loss in the polls). Intolerance is a short-hand for a number of grave problems this country faces. There is fear among the minorities, there is fear among the Dalits, there is a sense of discrimination among sections of the people," said Chidambaram.
"In the meanwhile, we have extreme right wing elements, abusing and opposing anyone who has a different point of view. There are groups which say what you will eat, what you will wear, who you will love, who you will marry. So, I think it became a big issue in the election. And who is responsible? The responsibility must lie with the BJP and the Sangh Parivar organisations," he added.
Chidambaram also criticised Prime Minister Modi for not censoring those who made statements promoting intolerance.
"He should've dropped, according to me, three or four ministers who crossed the line. He should've publically rebuked a few people who spoke out of turn," he said.
The mahagathbandhan is leading in 161 seats, with the Bharatiya Janata Party-led NDA is ahead in 74 seats respectively so far.
-ANI