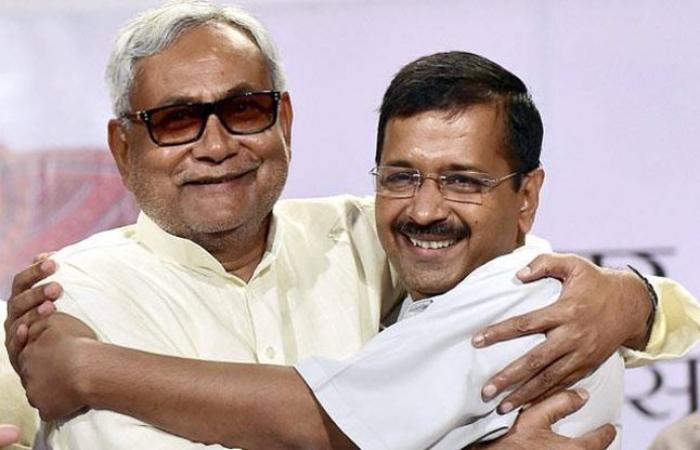 The world of politics is certainly one of strange bed-fellows. This is clearly evident by the friendship between Delhi Chief Minister Arvind Kejriwal and Bihar Chief Minister Nitish Kumar in the run up to the Bihar elections. And both are loathe to give up this association, despite protests. In fact, as soon as Delhi Chief Minister Arvind Kejriwal entered Bihar today, his former mentor, Anna Hazare's supporters greeted him with black flags.
The protestors alleged that CM Kejriwal has betrayed Hazare. Even his old aide Yogendra Yadav launched a scathing attack on him. "A person who was a hero of the anti-corruption movement will now be spotted with Nitish on one side and Lalu on the other," said Kejriwal's friend-turned-foe. Many have criticised CM Kejriwal for backing CM Nitish Kumar, who is also being supported by Lalu Prasad Yadav, who was convicted in the fodder scam in 2013.
However, even at the cost of losing old friends, CM Kejriwal has stood firm on his decision to lend his support to the Bihar Chief Minister. And the bonhomie between the two is only on the rise. While addressing a meet in Patna, praising his Bihar counterpart, CM Kejriwal said, "I have got the opportunity to learn a lot from Bihar CM Nitish Kumar."
Obviously, these two 'friends' need each other. And here's why:
The chief minister of Bihar has a long political career to boast of. He has closely observed and handled the affairs of a complex state like Bihar. As Arvind takes his conquest beyond Delhi, he is definitely going to need a helping hand. And CM Kumar seems to be the one at this moment.
Prime Minister Narendra Modi's power-packed campaigns have always created a buzz. This poses a bigger challenge for CM Nitish Kumar who is now in a straight battle with his ex-ally. Therefore, CM Kejriwal's sense of mass appeal, specially among the youth and his proficiency to handle campaigns, could really largely influence CM Kumar's strategy for elections.
The consolidation of Muslim votes might get easier for both leaders as they have have positioned themselves as custodians of the Muslim vote-bank. Even in the Lok Sabha polls, both have been attacking PM Modi on a number of issues - the ones concerning Muslims being a significant part of it.
As CM Kejriwal has emerged as the 'anti-corruption face' through his political campaigns and drives, CM Kumar could definitely associate with this image to guarantee a certain level of assurance to voters who wish to see a corruption-free Bihar.
Both the chief ministers have been individually exhausting their energies to rage a political battle against the BJP. So it only makes sense to join hands and be stronger in the bargain.