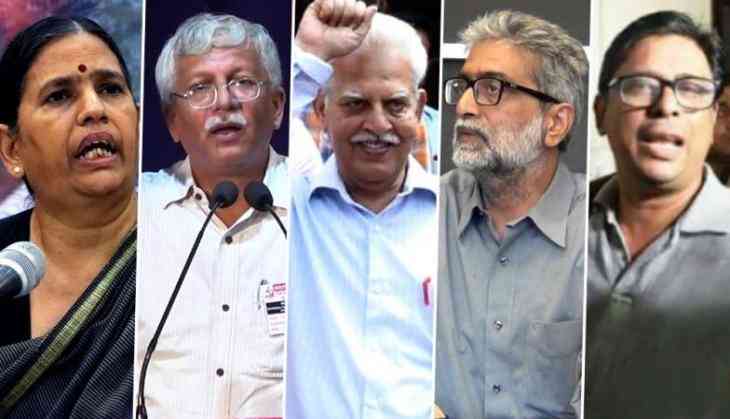 The Supreme Court has stayed the Bombay High Court order on Monday, and giving more time to the Pune police to file the chargesheet against the five activists arrested in the Bhima-Koregaon violence case.
Earlier, the Bombay High Court had aside the lower court's order allowing the extension the of time for police to file its report and the chargesheet against human rights activist.
The activists involved in the case were arrested on June 6 and a 90-day deadline was set for the police to investigate the matter and file a chargesheet but the police failed to do so and the Bombay High Court had quashed the order of the lower court, which had given 90 more days to the Pune police. Hence, the Maharashtra police department was prompted to move Supreme Court for quashing of High Court's order.
Although, Justice Mridula Bhatkar had restrained the order of the High Court to come into effect until November 1st, allowing the Maharashtra government to move Supreme Court in the matter if they wanted. The Bombay High Court had earlier rejected the lower court's order on grounds that public prosecutor had not filed a report regarding the progress in the investigation and neither the police had filed the chargesheet.
The Pune Police had arrested lawyer Surendra Gadling, Nagpur University professor Shoma Sen, Dalit activist Sudhir Dhawale, activist Mahesh Raut and Kerala native Rona Wilson in June for their alleged links with Maoists under the Unlawful Activities (Prevention) Act (UAPA), reported PTI. It was alleged that a political vendetta was present but the apex court had rejected the theory.
Also read: CBI's interim chief M Nageshwar Rao's wife gave Rs 1.14 crore to Kolkata based firm, claims Registrar
Bhima Koregaon case: Supreme Court issues notice to accused Gautam Navlakha in Maharashtra government's plea challenging the Delhi High Court order of setting aside his transit remand and his release from house arrest. https://t.co/BibZZIylf0

— ANI (@ANI) October 29, 2018