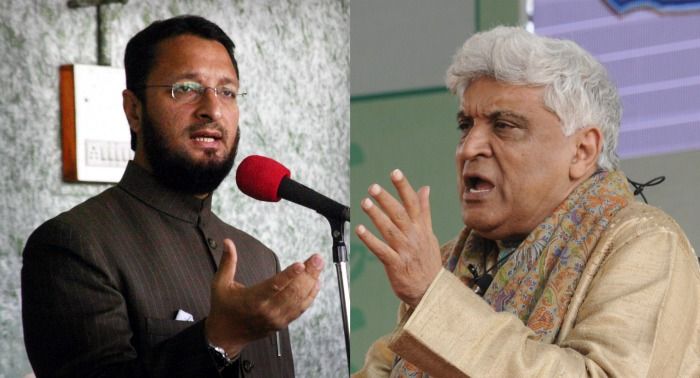 Two days after All India Majlis-e-Ittehadul Muslimeen (AIMIM) chief Asaduddin Owaisi let the world in general - and RSS chief Mohan Bhagwat, in particular - know his opinion about the 'Bharat Mata Ki Jai' slogan, noted lyricist Javed Akhtar ripped apart his speech in the Rajya Sabha.
"Mohan Bhagwat I will not chant that slogan. What will you do? I won't say it even if you put a knife to my throat," Owaisi had said. He also added that the Constitution did not mention the Bharat Mata ki Jai chant. Owaisi made the comments in response to Bhagwat's statement that "the time has come when we have to tell the new generation to chant 'Bharat Mata Ki Jai'. It should be real, spontaneous and part of the all-round development of youth."
From the looks of it, Owaisi took offense to the implication that future generations in India should be taught to offer salutations to the country.
His fit of rebellion against the RSS chief's words, however, has not gone down well with either the public or the parliamentarians. On his last day in the Rajya Sabha, Javed Akhtar took on Owaisi, calling him a politician from a 'mohalla of Hyderabad'. Ouch.
But what followed next was a step-by-step take down of those who feel ashamed to proclaim their love for their country. Shredding through the argument that the constitution of India doesn't force anyone to say Bharat Mata ki Jai, Akhtar said:
"He (Owaisi) said he will not say 'Bharat mata ki jai' as the constitution does not require him to say so. But, the same constitution does not ask him to wear Sherwani or lungi either."

"I don't even want to know if chanting 'Bharat Mata Ki Jai' is my duty. It is, in fact, my right (haq) to do so."
He reminded Owaisi that it is only India's intolerant environment that allowed such statements to go unpunished. "Nations who are wholly religious," would have punished him for comments like that, Akhtar alleged.
Refusing to acknowledge any legitimacy in those who seek to divide Hindus and Muslims through hate speeches, Akhtar said that the very basis of a democracy is secularism.
Our words cannot do justice to the beauty of Akhtar's soulful oratory. So watch:
--
Edited by Blassy Boben