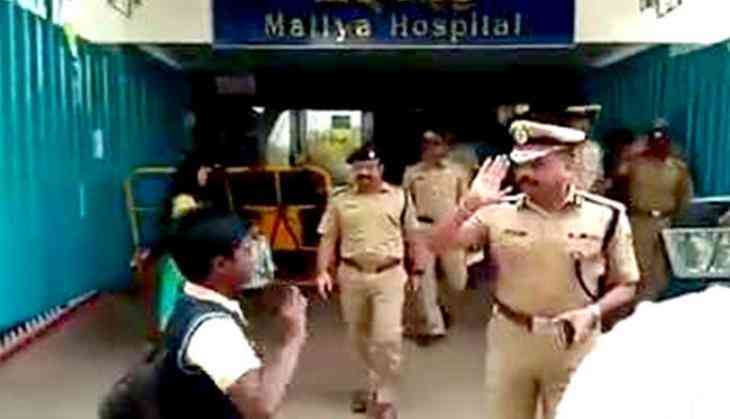 Respect is what, if you want to get it, you've got to give it. Recently, in a heart warming gesture a Bengaluru top cop, T suneel was seen exchanging a schoolkid. The camera caught the praisable gesture of the Police Commissioner in candid moment.
A schoolkid was walking by the Bengaluru city police commissioner T Suneel Kumar stopped to give him a salute as a mark of honour. While, the top cop was seen leaving Bengaluru's Mallya Hospital along with his colleagues. The cop stopped and promptly exchanged a salute with a kid.
The city police posted the of a prasible gesture of the top cop on their official Facebook page. The video shows a schoolkid in a school uniform and Bengaluru Police Commissioner T Suneel exchanging a salute in a very proud moment.
The video, that is captioned -- "The city police on A respect given by a uniform to a uniform shows the value of discipline", has now gone viral on social media and winning hearts. The video post has gathered over one lakh views, 1,500 shares and over five thousand 'Likes'.
The caption further said, "Commissioner of Police, Shri. T Suneel Kumar, IPS and a schoolboy respecting each other, capturing the proud moment of respect and discipline."
The internet is loving the gesture of the top cop and pouring their love and respects for the top cop.
"Great officer. Although ur (sic) in a dignified position, ur (sic) salute to a citizen(boy) has made me speechless. Hats off to u (sic) Sir," wrote a person.
Another wrote, "That's really what we would love to see in our city... Respect for each other."
"Lots of respect to sir n yes a salute from my side too.. Extremely humble person n shows in his action too," wrote a third.
One of the user commented on the video, "Hats off sir, commissioner sir cares and respect citizens with equal values." Another comment said, "This is why Bangalore police is the best in the nation."
Last year, in the month of August, T Suneel Kumar took charge as Bengaluru Police Commissioner over from Praveen Sood.