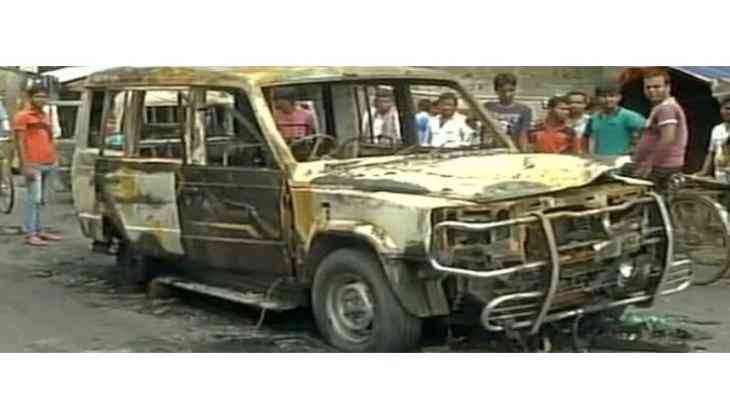 The central delegation of the Bharatiya Janata Party (BJP) was detained by the Kolkata Police here on Saturday near Michael Nagar area, when they were on their way to riot-hit Basirhat area.
The delegation comprised of Parliament members Om Mathur, Meenakshi Lekhi and Satyapal Singh who later had an argument with the police when they were stopped from entering Basirhat.
The leaders were then carted away to the airport in a police van, flanked by cops and their supporters alike.
"Section 144 of the Criminal Procedure Code (CrPC) is not applicable here and they cannot arrest us. They should have taken us to other jurisdiction and let them decide. The contradiction is that on one side they are not letting three members of the Parliament to travel and on the other hand they are saying everything is under control. On what basis are they arresting I don't know," BJP MP Meenakshi Lekhi told media.
She added that the Mamata Banerjee Government will get to know what the reality is and that the State Government is hiding more than what seems on the ground.
Lekhi was also stopped at the Kolkata Airport earlier in the day.
Yesterday, the BJP, Left and the Congress delegations were prevented from visiting riot-hit areas in Basirhat by the police.
BJP's state-level delegation led by veteran actor and BJP leader Roopa Ganguly along with 19 party leaders, which was heading towards Baduria, was detained by the police at Michael Nagar near Netaji Subhas Chandra Bose International Airport in Kolkata yesterday.
Earlier on Thursday Chief Minister Mamata Banerjee requested the Opposition to refrain from reaching the communal-sensitive areas of North 24 Paraganas.
Violent clashes erupted in Basirhat area of the district after a Class X student updated a controversial picture on Facebook.
The boy was later detained by police, but the violence hasn't abated.
Fresh tension was reported in Basirhat area yesterday forcing the police to lob tear gas shells and resort to baton charge even as the state government decided to ban some organisations for allegedly instigating people.
The Mamata Banerjee government yesterday claimed that situation has returned to normal in Baduria and surrounding areas.
Meanwhile, the State Government has temporarily suspended internet services in four police station areas of Basirhat, Baduria, Swarupnagar and Deganga to check the spread of rumours through social networking sites.
-ANI