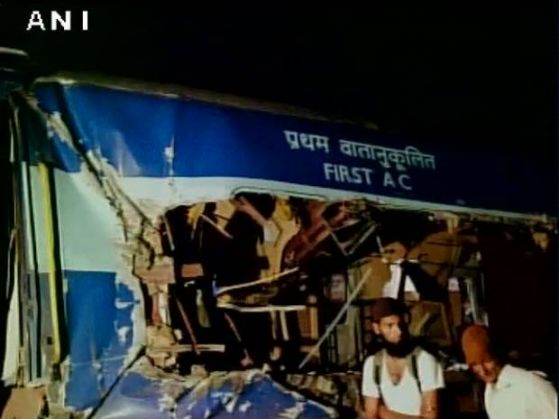 Five persons, including a Congress MLA from Karnataka, were killed and two others injured when a trolley carrying granite boulder hit the Bangalore-Nanded Express in Anantapur district of Andhra Pradesh in the early hours today.
The trolley hit the train at Madakasira railway gate and the granite boulder crashed against the first-class carriage of the train, DIG of Anantapur, K Satyanarayana, told PTI.
Four coaches (B-1, H1, S-1 and S-2) were also derailed derailed in the mishap, the South Western Railway said.
Four persons, including Congress MLA Venkatesh Naik from Deodurg in Raichur district of Karnataka, travelling in the train were killed on the spot, Satyanarayana said.
Naik was also a former four-time Lok Sabha Member of Parliament.
The trolley sped onto the railway track despite the railway gate and the brakes of the trolley appeared to have failed, he said. The AC bogie was crushed and three sleeper coaches of the train derailed in the incident.
The driver of the trolley fled and its cleaner died in the tragedy, the senior police official said.
Two persons sustained injuries and they were shifted to hospitals in Bangalore.
The Anantapur district borders Karnataka and is located around 350 km from Hyderabad.
Railway has also released help line numbers: Help line desk at Bangalore City Railway Station: 080 22354108, 09731666751, 080 22156553; Help line desk at Penukonda Station: 0855220244.
-PTI