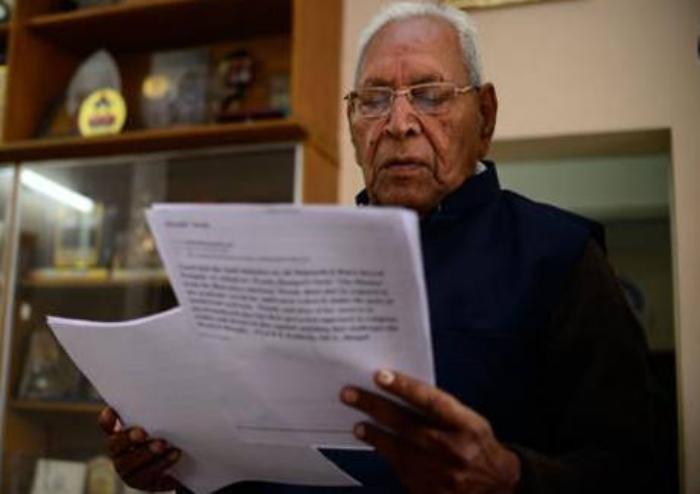 "Maine swapna liya hai, vidyalay key nirmaan ka Hindutva ki neev par, desh bhakti ke aadhaar par." (I have a dream, of building a school on the foundations of Hindutva and patriotism.)
- Dinanath Batra
These are the few lines from Dinanath Batra's poem that will be taught in Haryana schools to 'improve the morals' of students. The ultra-nationalist saffron stalwart's books will be taught to students from classes VII to XII.
Titled Naitik Shiksha, the six books apart from imparting moral education will also instill 'Indian values' in students.
The decision has been confirmed by Haryana Education Minister, Ram Bilas Sharma.
"I respect Dinanathji, he was my school principal. Yes, I have requested him to author moral education textbooks for our students," the minister was quoted in a national daily.
The move seems a bit ironic as the 85-year-old self appointed book censor is more popular for his 'Ban Man' stand on books rather than being a writer.
As the head of the Shiksha Bachao Andolan Samiti, Batra has been exceptionally vocal about banning books he perceives to be a threat to Indian culture and heritage.
Some of the books that have faced Batra's wrath include, Wendy Doniger's The Hindus: An Alternative History, On Hinduism , Communalism and Sexual Violence: Ahmedabad since 1969 by Megha Kumar and From Plassey to Partition: A History of Modern India by Sekhar Bandyopadhyay.
Apart from his book banning endeavours, Batra is also a cutthroat crusader against 'Western culture'. He is known to have said things like blowing out candles on birthdays should be shunned as it is western culture.
All Naitik Shiksha books will also include the Saraswati Vandana, essays on Vikramaditya, Chanakya, Swami Vivekananda, Rahim's couplets, chapters on A P J Abdul Kalam and Swami Bharati Krishna Tirtha, "who compiled the 16 sutras of vedic mathematics".