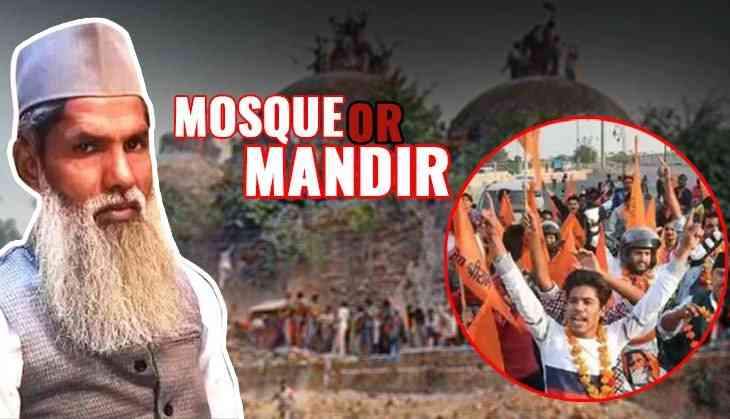 Babri Masjid Demolition Anniversary
The Babri Masjid demolition which happened on December 6 1992 in Ayodhya was known to be carried out by the Kar Sevaks but there was a man in the crowds of lakhs who was a Muslim with same objective.
In a planned move, a Rath Yatra was carried out by then BJP president Lalkrishn Advani who was later on apprehended by then Bihar CM Lalu Prasad Yadav but the motive to construct a Ram temple was always at the backhand.
But, Mohammad Aamir, who was also present at the site was involved in the demolition and said that he was inspired by the movement and held that a new temple should be constructed at the site.
More than a lakh kar sevak had marched towards Ayodhya with a prior intention to demolish the structure and Aamir narrates that he was in the grasp of the chants saying, "Ram Lala hum aayenge, Mandir wahin banyenge" with the sync of the Vishva Hindu Parishad and the Rashtriya Swayamsevak Sangh.
Mohammad Aamir has said that while during the demolition he was a Hindu and his name was Balbeer Singh but later on, he converted into the Islam and vowed to build more than a hundred Mosques after demolishing the one in the Ayodhya.
Although, Mohammad Aamir has claimed that he was not trained before the demolition as the famous news has been in the corridors that the Kar Sevaks were trained ahead of the demolition day.
When asked by the newslaundry to name the organization in which he was involved while the demolishing the structure, Mohammad Aamir straightaway declined to name and said that it might harm the name and people associated with it.
Also read: 26 years of Babri Masjid demolition: Security tightened in Ayodhya as the Mandir pitch of RSS, VHP rises
Security tightened in Ayodhya on the anniversary of Babri Mosque demolition. pic.twitter.com/NJjOakBqwX

— ANI UP (@ANINewsUP) December 6, 2018