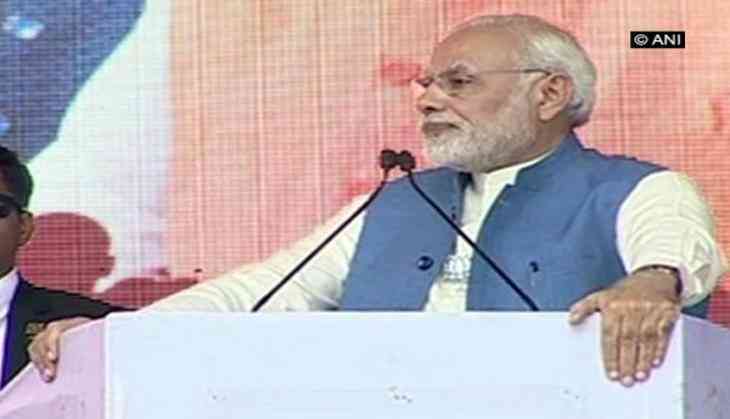 Prime Minister Narendra Modi on Thursday took a jibe at the Opposition, saying that the political parties who asked for votes in the name of Dr B. R. Ambedkar have lately turned into "Shiv bhakts".
Speaking at the inauguration of Dr Ambedkar International Centre here, Prime Minister Modi said, "The political parties ask for votes in Baba Saheb's name. But these days they are not remembering Baba Saheb, but Baba Bhole."
Prime Minister Modi's statement comes after Congress Vice-president Rahul Gandhi earlier said his family is a devotee of Lord Shiva, but does not believe in using it for political gain.
"My grandmother (Indira Gandhi) used to worship Lord Shiva and my entire family does the same. But, we keep such things private; we normally don't talk about it. We believe that our religion is a personal thing and don't want to trade on Lord Shiva's name. We don't want to make political use of it," Rahul Gandhi had said.
Prime Minister Modi also talked about the dreams of Dr B. R. Ambedkar for the nation.
"From the last three years, we have tried to fulfil the dream of Baba Saheb's social democracy. The schemes of this government are to strengthen the social democracy," he added.
Prime Minister Modi also asked the people to visit villages and see the difference that the Pradhan Mantri Ujjwala Yojana has created, and how it has helped the government in eliminating social discriminations in villages.
"He (Baba Saheb) always hoped that the governments in India would follow the constitution without discriminating against the caste, without distorting the caste. Today, in this plan of this Government you will see an effort to give equal rights to all without discrimination," added Prime Minister Modi.
He further said that the delays in the schemes in this government are considered criminal negligence.
"See this centre itself (Dr. Ambedkar International Centre), it was decided to build it in 1992, but nothing happened for 23 years. In this government, the foundation stone is opened and this government is being inaugurated," said Prime Minister Modi.
-ANI