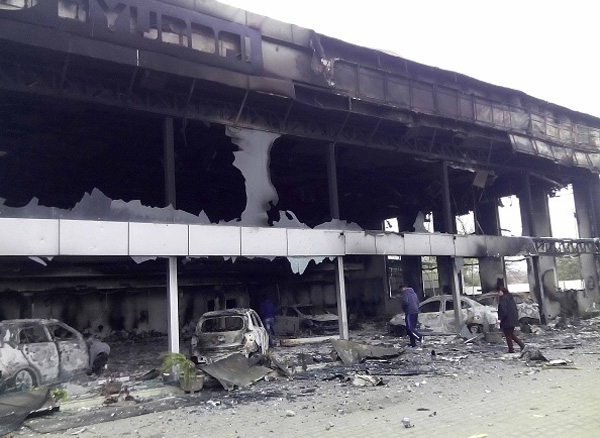 A 90-second audio clip of a conversation purportedly between a Khap leader and Professor Virender, former political advisor to ex Haryana chief minister Bhupinder Singh Hooda, allegedly inciting violence in Haryana's Jat quota stir, has created a furore in political circles, reports The Indian Express.
In the clip, Professor Virender praises Kaptan Mann for the violence in Rohtak and tells him to ask the Indian National Students' Organisation and Indian National Lok Dal incite further violence in Sirsa.
The ruling BJP in Haryana is incensed and is demanding an investigation. The Jat quota stir has disrupted life in the state for nine days and caused 19 deaths, even after the government announced job reservations for the community.
"We suspected there was some director behind the scene who was trying to inflict damage on the state to reap political benefits," said Health Minister Anil Vij. "Our government will order an inquiry into the clip which has gone viral. Anyone who is found guilty of inflaming passions won't be spared."
INLD leader Abhay Chautala said: "From the audio clip, it has become evident that peaceful protesters were instigated and then Hooda went to Delhi and sat on a hunger strike. I demand that the government get a thorough investigation done into this audio clip and punish the guilty. But this audio clip also makes it clear that the government has been tapping phones of the Opposition illegally".
Professor Virender has admitted to talking with Khap leader Kaptan Mann, but said the audio clip was doctored.
However, the state Congress issued a show-cause notice against Virender. In the notice, Ashok Tanwar, president of the Haryana Pradesh Congress Committee, said: "It has been alleged that you are responsible for instigating protesters to start violent agitation in other districts of the state which were comparatively peaceful, and that too with the support of our rival political party namely INLD and their student wing INSO."
He continued: "As you are a member of the Congress party, such outright irresponsible behaviour is not expected from you. Therefore, you are directed to reply within three days of receiving this letter. If no reply is received within three days from today, then disciplinary action shall be initiated against you."
Former Congress minister Capt Ajay Yadav has demanded a CBI probe into the audio clip. "We all recognise Professor Virender's voice. But since he has said the clip has been edited and tampered with, I believe that a CBI probe should be ordered by the state government," he said.