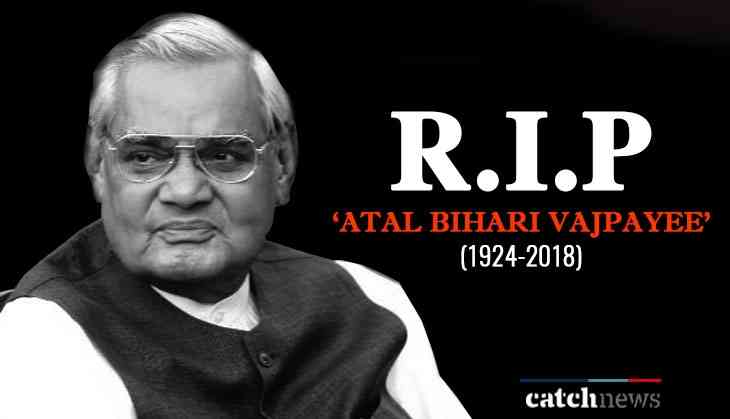 After the death of former Prime Minister and Bharat Ratna Atal Bihari Vajpayee on 16th August, the whole country went into shock and for the same there will be 7 days mourning in the nation till 22nd August. Atal Bihari Vajpayee will be cremated on 17th August 2018. Currently, his body is resting at his home Krishna Menon Marg. He will be taken to the BJP headquarters around 9 am.
While the last journey of Bharat Ratna will start at the party's headquarter at 1 pm and the samadhi will be done at Vijay Ghat, near Rajghat, at 4 pm. On his funeral, several roads in Delhi would be restricted for the Delhiites.
The procession of Atal Bihari Vajpayee will pass through Pt Deen Dayal Upadhyay Marg, Bahadur Shah Zafar Marg, Delhi Gate, Netaji Subhash Marg and Shanti Van to reach Rashtriya Smriti Samadhi area where the BJP leader will be cremated at 4 pm.
Due to the procession, areas around Krishna Menon Marg, Deen Dayal Upadhyay Marg and Rajghat, all traffic movement will be closed. According to Police expectations, lakh of mourners are likely to join the funeral to pay the tribute to former PM.
Here is the list of roads which would be restricted today:
Krishna Menon Marg, Sunehri Bagh Road, Mansingh Road, C-Hexagon from Shahjahan Road to Tilak Marg, Tees January Marg, Tughlaq Road, Kasturba Gandhi Marg (from Feroz Shah Road to C-Hexagon), Akbar Road, Janpath (from Hotel Claridges to Windsor Place), Rajpath (from Mansingh Road to C-Hexagon), Ashoka Road (from Windsor Place to C-Hexagon), and Copernicus Marg (from Mandi House to C-Hexagon).
Also read: Video: When late Prime Minister Atal Bihari Vajpayee hugged BJP worker Narendra Modi