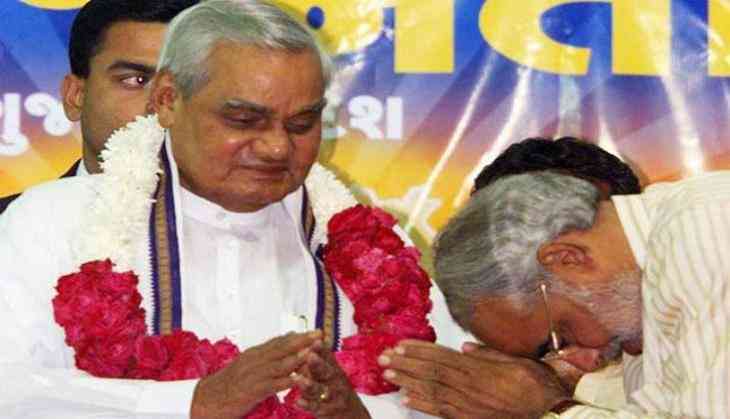 Former Prime Minister Atal Bihar Vajpayee cremation was done at the Rashtriya Smriti Sthal on 16th August. The procession of Atal Bihari Vajpayee was begun from the Bhartiya Janata Party (BJP) headquarters in Deen Dayal Upadhyay Marg. The huge crowd was gathered to pay their last tribute to the former PM outside BJP headquarter.
But the tribute Prime Minister Narendra Modi gave to Atal Bihari Vajpayee has surprised everyone. The tribute that PM Modi paid was that he walked behind the mortal of former PM Atal Bihari. Everyone was shocked when PM Modi didn't get into his car.
While, Modi walked silently behind the procession of former PM Atal Bihari Vajpayee to Rashtriya Smriti Sthal, along with his cabinet ministers. However, at that point, the Special Protection Group, the elite that guards PM, informed Delhi Police that PM Modi would walk alongside the funeral procession to the Smriti Sthal in north Delhi, a senior Police officer said. Reportedly, Modi walked approximately 5 km.
Along with PM Modi, BJP chief Amit Shah, Union Ministers and Chief Ministers of several states, including Shivraj Chouhan, Vijay Rupani, Yogi Adityanath and Devendra Fadnavis also walked behind the carriage of Atal Bihari Vajpayee to the cremation site.
According to the officials, who made security arrangement for PM Modi said that 'Never before has any Prime Minister walked 6 km like this in a public procession. We got very little time to tweak his security plan although we were equipped to handle VIP security all along the way.' He also added that they don't have the VVIPs list who would walk in the procession but anyhow they managed the arrangement. He also told that 'the PM's decision to walk had an element of surprise.'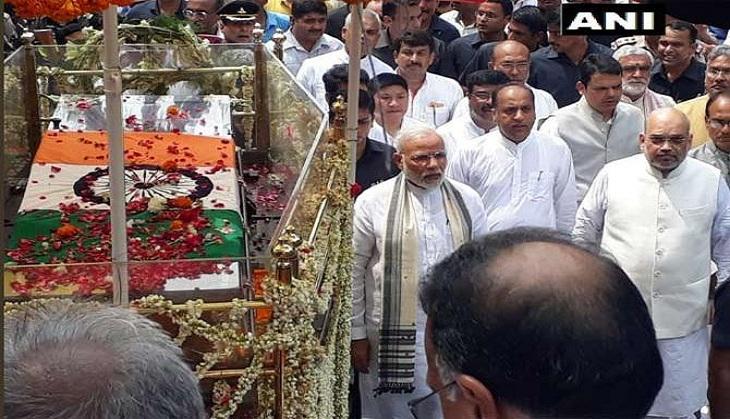 Well, PM Modi has become the first Prime Minister who did such.
After the death of Atal Bihari Vajpayee, PM Modi has also written several tweets for former PM Atal Bihari Vajpayee and also said that he lost a father.
Watch Video:
Also read: Shocking! Poet Gopaldas 'Neeraj' already predicted the death date of Atal Bihari Vajpayee