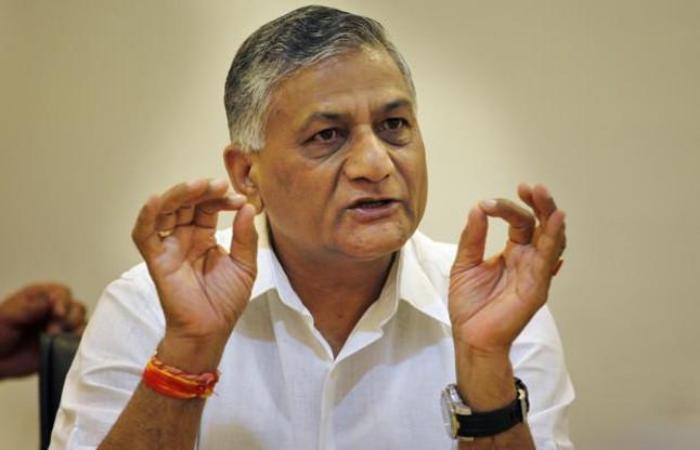 Minister of State for External Affairs V K Singh today termed the ongoing agitation in Assam against the Centre's decision to regularise stay of non-Muslim immigrants in India as "not normal" and "total misconception".
"It is a total misconception. When you politicise an issue too much, you get various polarisation. It is not normal," Singh said at a press conference here.
He was responding to a query on the series of agitations launched in Assam after the Centre issued an official release on September 7 informing its decision to regularise entry and stay of minority community nationals from Bangladesh and Pakistan in India.
"There should be no controversy. It is a pan-India notification. It should not be taken into consideration in respect to one particular state," Singh said.
He explained that it is natural that when people migrate, they always go to the nearby places and so the burden has automatically fallen on Assam's shoulder after 1971 war.
When asked if the Centre may consider withdrawing the notification considering the intense agitation in Assam, Singh said, "I do not know. It is not under my department."
Since last week, over a dozen organisations, including AASU and AJYCP, have hit the roads with a series of protests against the Centre's decision.
On 12 September, the 12-hour Assam Bandh called by Asom Jatiyatabadi Yuva Chhatra Parishad evoked near complete response against the sensitive issue.
On 7 September, an official release informed that the issue of regularisation of entry and stay of Bangladeshi and Pakistani minority community nationals in India has been under consideration of the central government.
The government said a number of Bangladeshi and Pakistani nationals belonging to minority communities such as Hindus, Sikhs, Christians, Jains, Parsis and Buddhists were compelled to seek shelter in India due to religious persecution or fear of religious persecution.
They entered into India either without any valid document including passport and other travel documents or with valid documents but the validity of such documents have expired, the release mentioned.
Accordingly, the central government decided on humanitarian considerations to exempt Bangladeshi and Pakistani nationals belonging to minority communities, who entered into India on or before December 31, 2014, from the relevant provisions of rules and order made under the Passport (Entry into India) Act, 1920 and the Foreigners Act, 1946.
-PTI