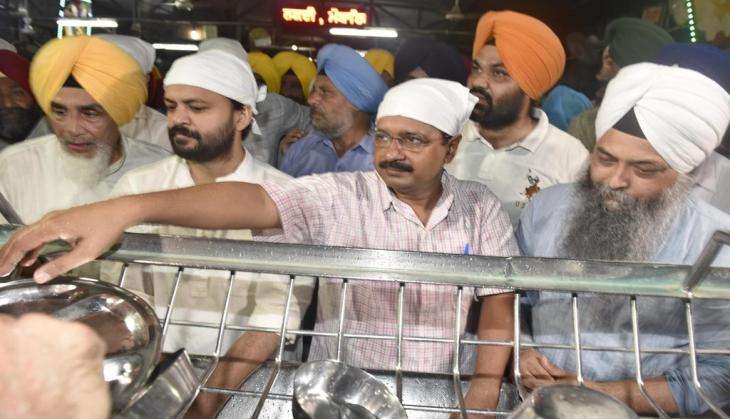 Delhi Chief Minister Arvind Kejriwal scrubbed dishes at Amritsar's Golden Temple early on 18 July, in a bid to apologise for the Aam Aadmi Party's youth manifesto controversy.
The AAP leader was at the temple for 45-minutes. He scheduled his 'seva' to begin before daybreak, in an attempt to beat the paparazzi. He was careful to avoid sweeping the floors in the shrine in order to avoid criticism for using his party symbol of the broom for political gains.
"I had come here to offer voluntary service to apologise for the unintentional mistake committed in our youth manifesto... I have peace of mind now," NDTV quoted him as saying.
Kejriwal offered prayers at the shrine and later washed utensils at the shrine's 'langar hall' or the community kitchen which serves food to over one lakh people everyday.
Earlier this month, a complaint was filed against AAP spokesperson Ashish Khetan, who was accused of hurting Sikh sentiments.
"This is our bible, our Gita and our Guru Granth Sahib," Khetan had said while unveiling the 51-point manifesto at an event. AAP was criticised on social media with hashtags like #KejriinsultsGoldenTemple for the manifesto, which bore a photo of the Golden Temple superimposed with an image of Kejriwal and the AAP symbol of the broom.
While, Khetan apologised for the act, Punjab's Deputy Chief Minister Sukhbir Singh Badal had called it an "act of blasphemy".
.@ArvindKejriwal doing sewa in Golden Temple. 🙏 pic.twitter.com/lpnWbBGJsp

— ਮਿਸਟਰ ਸਿੰਘ™🔵 🅰🅰🅿 (@VikkyBhamra) July 18, 2016