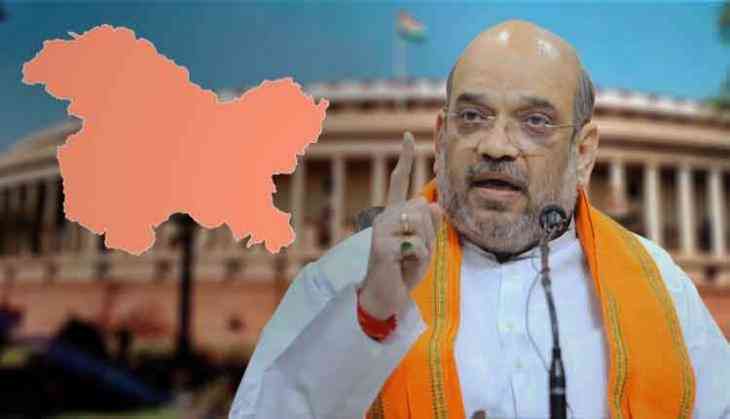 Modi-led government has taken its big move on Monday after scrapping article 370 in Rajya Sabha. Home Minister Amit Shah proposed to remove the special status given to Jammu and Kashmir on August 5th. In addition, the government has decided to bifurcate the state J&K into two Union Territories.
After the announcement on abrogation of article 370, the protest has been triggered by oppositions in the Parliament.
However, this historic step of Modi government was taken after a crucial Cabinet meeting held at Prime Minister residence at 7, Lok Kalyan Marg along with other members of the Cabinet Committee on Security (CCS).
Government's decision on Article 370 has activated the social media users as they got a lot of stuff to play with or we would say to photoshopped it.
When many people were busy discussing the big step of BJP-led NDA government then there were fake news peddlers who were busy spreading fake news on social media platform.
An SMS on Twitter was widely shared by a user which apparently asked to buy property in Kashmir.
The message reads, "book your land at Kashmir Lal Chowk Rd" as "KASHMIR 370 removed".
Check viral fake message: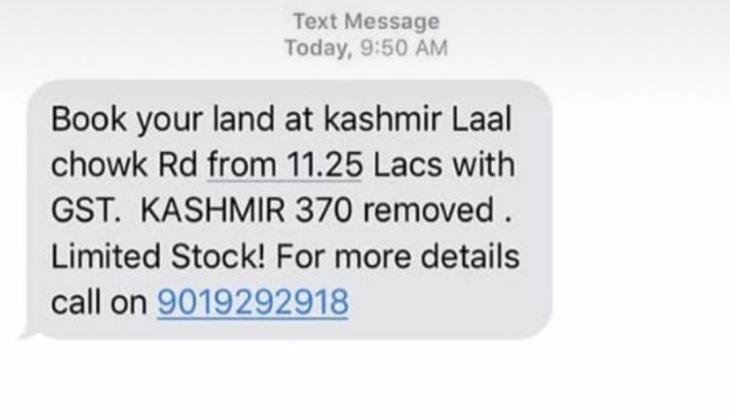 Interestingly, the receiving time of the message was 5th August at 9:50 am.
However, Amit Shah proposed the removing of Article 370 in Jammu and Kashmir at around 11:30 am, in the Rajya Sabha. But, this viral message was shared at 9:50 am. Therefore, it was clear that the message was fake and it was also photoshopped.
Also, the phone number in the text belongs to a real estate company in Kolkata named Eden Realty Group.
In a conversation with Huffington post, the customer care executive from the company also cleared, "there is no such offering and not at that price. Anyone with some understanding of real estate can say the price is too low."
As per the company's website, Eden Realty has several new projects that have to be started in Kolkata, but, not in Kashmir.
Therefore, it's clear- the viral message was fake.
Check out how netizens reacted:
So.....was this fight just for land?????

— Indian1st (@indianneer) August 5, 2019
So this has started. You are a disgrace India. pic.twitter.com/Ow4cbWoxyi

— Aparna (@chhuti_is) August 5, 2019
Check the time and stop caving in to the photoshop industry.

— Vipul (@Sporty_Baba) August 5, 2019
I got some pic.twitter.com/sv0wNrEMgc

— Ahmad Ali Bisati (@ahmadbisati) August 5, 2019
The Narendra Modi-led NDA government redrew the map of Jammu and Kashmir and also, bifurcating the state into two Union Territories: Jammu and Kashmir and Ladakh.
Also Read: All clauses of Article 370 will not be applicable in Jammu-Kashmir: Amit Shah