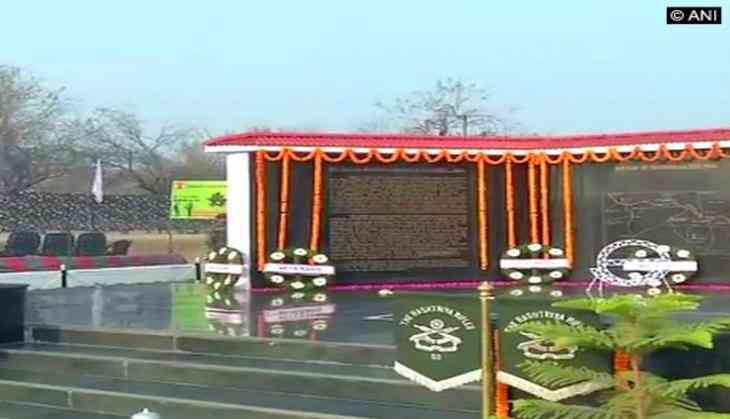 The Indian Army on 3 November paid tribute to Major Somnath Sharma, the first recipient of the highest Indian gallantry award Param Vir Chakra, in a wreath-laying ceremony in the Budgam district of Jammu and Kashmir.
GOC Victor force, senior army officers and other ranks were present at the ceremony.
Major Sharma was killed in Budgam on this day in the year 1947 while evicting Pakistani infiltrators from the Srinagar Airport.
B.S. Raju, the head of Victor Force, recalled Major Somnath Sharma as a very brave officer who lost his life while saving Kashmir.
To tackle Pakistan's repeated attempts of invasion, the D Company of the 4th Battalion of Kumaon Regiment, under the command of Sharma, was deployed in Srinagar. Sharma, whose left hand was in a plaster cast, insisted on being in combat.
"Major Somnath Sharma was a very brave officer. He was deployed here under the 4th battalion (Kumaon regiment) immediately after independence. The Pakistani soldiers and their 1,000 raiders were going to attack the Srinagar Airport after partition when Major Sharma bravely saved the airport, the state, but died in a fight with the North West Frontier," B.S. Raju said.
Sharma's company was under heavy fire and was outnumbered by a ratio of seven to one. Before losing his life in a mortar shell explosion on a pile of ammunition near him, Sharma transmitted a message to his brigade's headquarters, which read: "The enemies are only 50 yards from us. We are heavily outnumbered. We are under devastating fire. I shall not withdraw an inch but will fight to our last man and our last round."
-ANI