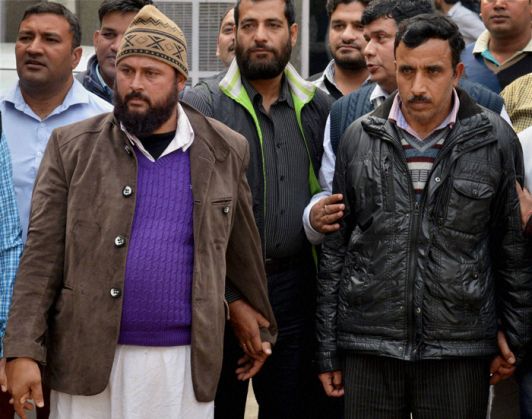 The crime branch of the Delhi Police have hinted that a source in the Pakistan High Commission in Delhi may also have been involved in the Pakistan spy racket that was busted on 30 November.
It was during the interrogation of the arrested Border Security Force (BSF) head constable, Abdul Rasheed, and his handler Kafaitullah Khan that the police stumbled upon this potential new angle. Here's what we know about the case so far:
The accused
1) Border Security Force (BSF) head constable, Abdul Rasheed
Rasheed has been remanded in police custody till 7 December. He had allegedly passed on the Indian Army's frontier war plan to the ISI. However, according to BSF sources Rasheed could not have passed on much information on anything else besides troop movement.
2) His handler and relative, Kafaitullah Khan
Joint Commissioner of Police (Crime) Ravindra Yadav told NDTV that Khan worked as a library assistant in a school in Rajouri district and that he came in contact with ISI agents after having visited Pakistan in 2013.
3) Pakistan High Commission 'mole'
According to the Delhi Police, Khan had been called to Pakistan by his handlers in the ISI to discuss developments, recruitments, and classified information-sharing. However, his visa had expired so he was asked to meet a person at the Pakistan High Commission and submit his passport. The identity of the person at Pakistan High Commission has not been disclosed.
According to a Times of India report, the Delhi Police recovered a copy of the plan, called the Order of Battle (ORBAT), from Rasheed - besides other important documents. The TOI has also revealed a list of code words used by the ISI agents.
The information that was leaked
ORBAT (Order of Battle). The ORBAT is the frontier war plan of the Indian Army and provides details on which troop will move first, who will provide reinforcement and their strengths.
Details on the exact location and strength of two Rashtriya Rifles units and deployment of BSF units in Rajouri, Mendhar and Poonch districts of Jammu and Kashmir.
Exact locations and strength of army units 126 and 163.
Number of fighter jets stationed at Srinagar, their origin and location.
Code words used by ISI agents
Bhaijan: used for Pakistan intelligence operative
X-Ray report: in reference to leaked papers
Surgeon/Doctor: to refer to different BSF and Indian Army personnel.
Medicine: to refer to information.
How was the information exchanged?
During interrogation, Kafaitullah Khan revealed that sensitive information was exchanged through WhatsApp, e-mail or Viber; The members did not use phone calls or text messages.
Papers were shared through FaceTime and Skype.
Documents were also changed at crowded streets and in public transport.
Case may get murkier
The Delhi Police have also submitted all the details of the case to a local court. Rasheed and Khan are being interrogated to ascertain the identity of their Pakistani handlers and other possible aides in the Indian Army and BSF.
According to reports, police suspect that Rasheed's arrest is only the "tip of the iceberg". The crime branch claimed the duo has aides in other security units as well who have been identified and are likely to be arrested soon.
According to an Economic Times report, Khan had revealed that he was promised a large sum of money for passing on the information.
The Economic Times quotes an official close to the probe as saying that Khan received fixed monthly payments of Rs 20,000 - which was often routed through the UAE, Saudi Arabia and Pakistan. The money trail is now being probed.
This is the third espionage racket to be busted in a week - after cases in Kolkata and Meerut.