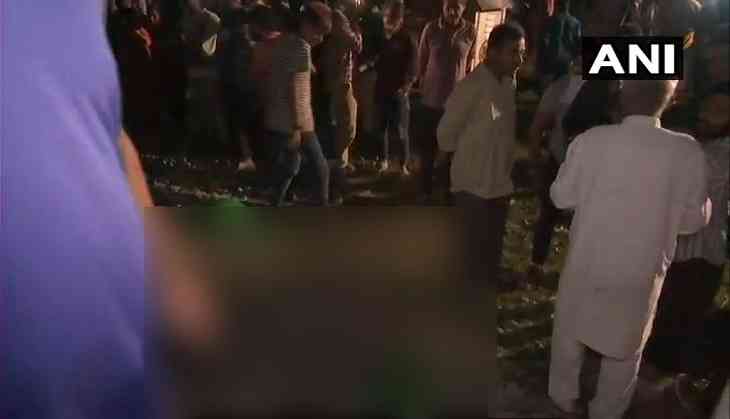 At least 60 feared dead as train rams over people watching Dussehra celebration in Amritsar. The rescue operation is underway. Several feared dead as a train runs into a burning Ravan effigy in Choura Bazar near Amritsar:
An eyewitness said, "a train travelling at a fast speed ran over several people during Dussehra celebrations, in Choura Bazar near Amritsar." Police said, "There are more than 50 casualties. We are evacuating people, injured taken to the hospital", on accident in which several are feared dead in Choura Bazar near Amritsar.
Extremely saddened by the train accident in Amritsar. The tragedy is heart-wrenching. My deepest condolences to the families of those who lost their loved ones&I pray that the injured recover quickly. Have asked officials to provide immediate assistance that is required, tweeted PM Mlodi.
#Punjab: Visuals from Civil Hospital in #Amritsar where those injured in the train accident are being brought for treatment. pic.twitter.com/xbRruNOEmF

— ANI (@ANI) October 19, 2018
#WATCH The moment when the DMU train 74943 stuck people watching Dussehra celebrations in Choura Bazar near #Amritsar (Source:Mobile footage-Unverified) pic.twitter.com/cmX0Tq2pFE

— ANI (@ANI) October 19, 2018
At gate no. 27 b/w Amritsar & Manawala. As Dussehra celebration was taking place some incident had occurred& people started rushing towards closed gate number 27 while a DMU train number 74943 was passing the closed gate , says CPRO Northern Railway; Visuals from accident site.
Punjab CM has directed Home Secretary, Health Secretary and ADGP Law and Order to immediately rush to Amritsar. Revenue Minister Sukhbinder Sarkaria deputed to immediately reach Amritsar to oversee rescue operations. CM to visit Amritsar tomorrow to access the situation.