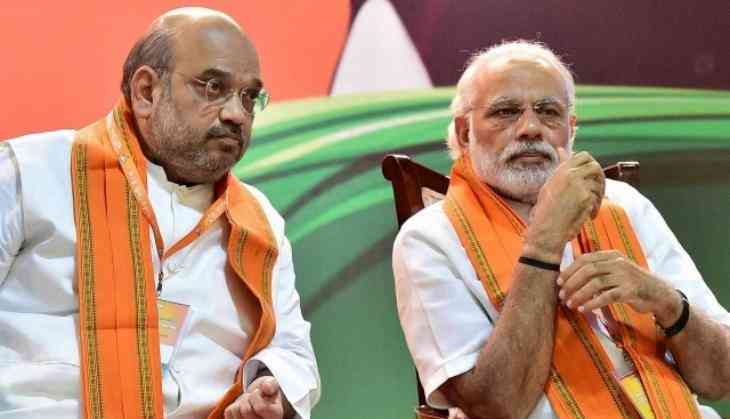 Amit Shah and Narendra Modi
Ahead of the results of state polls on December 11, Mizo National Front, an ally of the BJP has expressed reservations over BJP president Amit Shah's remark of 50 years rule.
The BJP's ally in Mizoram, MNF, which is a part of NDA's North East Democratic Alliance has resorted to bring the BJP's stalwarts to the ground and expose them to the harsh reality of everyday life.
The principal Opposition in Mizoram, which has the highest chances of forming the government in the state, MNF has although accepted that Congress party will not win the upcoming General Election in 2019 and will stay out of power for a couple of years but have declined that BJP will be in power for next 50 years, as claimed by party president Amit Shah.
In an interview to PTI, former CM and MNF chief Zoramthanga has said that "I doubt. He (Amit Shah) is not a God. He cannot predict that in politics. Even (Narendra) Modi cannot predict that. That is his wishful thinking. Nobody can predict that."
Zoramthanga added that "For decades, he (Amit Shah) may predict that Congress will not come to power. But to predict for 50 years or 100 years, it is rather an exaggeration."
Discussing about the ideology as Mizoram is a Christian dominant state and BJP follows the "Hindutva ideology" the former CM said, "Because we are Christians. They want to promote the Hindutva. We cannot be together as far as these things are concerned. We have a different ideology," but when it comes to country, he said, "But as far as the country is concerned, the NDA is better than the UPA and that is why we joined them at the Centre. But ideologically, the MNF and the BJP are poles apart. The BJP knows it very well," as reported by the PTI.
Also read: Babri Masjid demolition anniversary: Meet Mohammad Aamir, a Muslim kar sevak who was involved in the