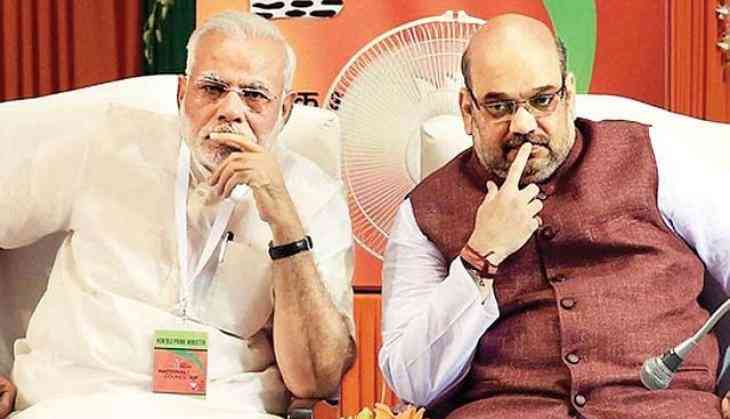 Amit Shah and Narendra Modi
After a poll debacle in the 5 state assembly elections, the BJP president has for the first time spoken about the defeat and majorly conceded it.
The Chanakya of poll management in BJP, Amit Shah, has said that he accepts the mandate of public and will work upon it to transform the results in future.
Shah had been behind the scene after the BJP lost in the Hindi heartland of Madhya Pradesh, Rajasthan and a complete wipe out in Chhattisgarh. The party miserably lost in Telangana and Mizoram as well.
Amit Shah said, "The results in Rajasthan, Madhya Pradesh, Chhattisgarh definitely are not favorable for the BJP, but it is not right to link them with the 2019 Lok Sabha polls."
Accepting the defeat, Shah said, "We accept the people's mandate in Rajasthan, Madhya Pradesh and Chhattisgarh; we will introspect on the poll results."
As the 2019 election is approaching, the Amit Shah school election management is in full swing and the preparation can be seen in Uttar Pradesh, where the RSS cadre are organizing Pad Yatras in each district, so as to expand the reach and base of the party to the booth level and Panna-Pramukhs would be appointed.
But the concern is with the resurging Congress and the emergence of Rahul Gandhi 2.0 with a new narrative and manifesto. Shah further said that, "State polls can't be linked to Lok Sabha poll results; both elections are fought on separate issues."
Shah emphasizing on a win for the BJP, said, "It is imperative for the BJP but also for the country that the BJP wins the next elections in the Hindi heartland and other areas."
Also read: Former PM Manmohan Singh takes jibe at PM Modi, says, 'I wasn't afraid of talking to press'