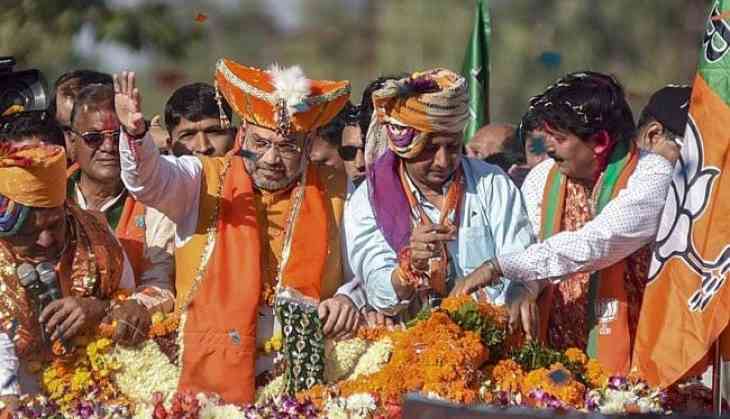 At the BJP's National Executive meet, the BJP has upped its ante while announcing the 2019 Lok Sabha polls from the Ram Lila Maidan with all the major functionaries of the BJP in attendance, the 2019 now seems to be just around the corner.
While delivering his master speech, the BJP's election machinery chief Amit Shah has said that "2019 will be a decisive contest. Like in the third Battle of Panipat, the Marathas that had won 131 battles lost one decisive battle which led to 200 years of colonial slavery.."
Talking about the most awaited project of the right-wing group, the Ram Mandir, Amit Shah in his speech reiterated the belief to build a huge Ram Temple in Ayodhya, while targeting his core voter base in the UP belt.
Shah said "BJP wants Ram Mandir to be constructed at the earliest. We are trying in the Supreme Court that the case reaches its conclusion but Congress here also is trying to create obstacles."
Amit Shah, BJP President: BJP wants #RamMandir to be constructed at the earliest. We are trying in the Supreme Court that the case reaches its conclusion but Congress here also is trying to create obstacles. pic.twitter.com/A6IzgJiNCH

— ANI (@ANI) January 11, 2019
Talking about the recent Citizenship Amendment Bill, Amit Shah said that it is the need of the hour and added that "Amit Shah, BJP President: Mujhe bohat acha laga jab akhbaar mein aankda aaya, main abhinandan karne ke bhav ke saath Rajya Sabha pauncha, puri Rahul baba and company hai-tauba macha rahi hai,'Kaha jayenge, kaha rahenge, kya khayenge', jaise unke musare bhai lagte ho."
Shah said that "Assam mein Sarbananda Sonowal ki sarkar bani aur sarkar bante hi humne NRC ki shuruwat ki. NRC desh mein ghuspaetiyo ko chinhit karne ki vyavastha hai. Akele Assam mein 40 lakh pratham drishtiya ghuspaetiya chinhit kiye gaye."
ALso read: Uttar Pradesh: Shocking! Policemen burns body with waste & keeps Rs 2,700 given for
Amit Shah, BJP President: 2019 will be a decisive contest. Like in the third Battle of Panipat, the Marathas that had won 131 battles lost one decisive battle which led to 200 years of colonial slavery. pic.twitter.com/RTzqBUzM2R

— ANI (@ANI) January 11, 2019