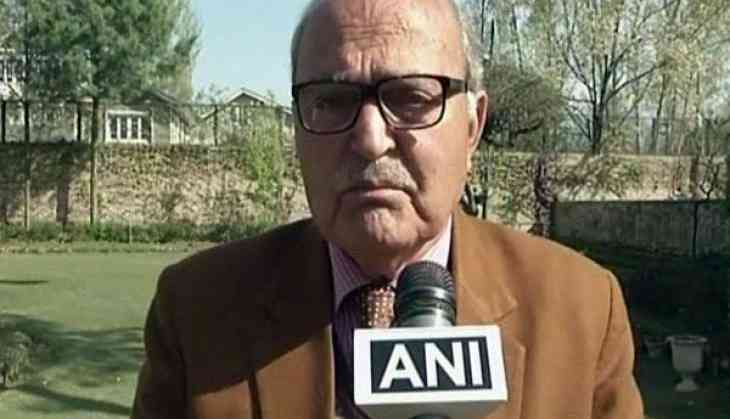 Amid cries to free Kulbhushan Jadhav from Pakistan, NC leader spews shocker (ANI)
Following External Affairs Minister Sushma Swaraj's stern warning to Pakistan on bilateral relations, National Conference (NC) leader Mustafa Kamal spewed a shocker by supporting Pakistan on the Kulbhushan Jadhav sentencing issue saying that it is not correct for India to point fingers at another nation's legal proceedings.

"Pakistan has obeyed the law. Not correct for India to point fingers, being the largest democracy," Kamal told ANI.

However, Kamal stated that Pakistan is the biggest threat not just for India but also for South Asia and said that anyone accused of crime deserve a hearing.

"Government should reintroduce a bill to declare Pakistan as a terror state. Pakistan is the biggest threat not for India but for South Asia as well," Kamal said.

Meanwhile the Parliament faced uproar over the issue, as External Affairs Minister Sushma Swaraj asserting that India's position on this matter is clear and there is no evidence of wrongdoing by Jadhav.

Swaraj said that Jadhav was doing business in Iran and was kidnapped and taken to Pakistan.

Stating that the Pakistan Government sought India's assistance to obtain evidence and other materials for the investigation process, she informed that in doing so, they levelled ridiculous charges against senior Indian officials who had no connection to this issue.

The External Affairs Minister further said Foreign Secretary S. Jaishankar conveyed India's position to Pakistan's High Commissioner Abdul Basit yesterday.

Jadhav, who was arrested in March last year by Pakistan and accused by the country of spying, was sentenced to death by a Pakistani military court yesterday.

The move has sharply escalated tension between India and Pakistan.

Basit was yesterday summoned to protest at the conviction and sentence. India also said that Pakistan had ignored its multiple requests for consular access to Jadhav.
-ANI