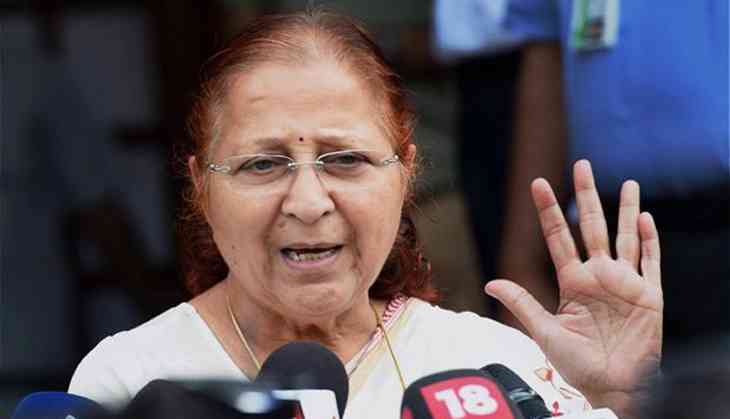 Lok Sabha speaker Sumitra Mahajan on Sunday said that all political parties have given assurance for a peaceful and constructive Monsoon Session beginning tomorrow.
Mahajan said that the 19-day long session will see election of President and Vice President and discussion on various important issues like the farmer suicide and foreign policies.
"I want this Parliament session to be fruitful. All political parties have assured me that they will help in conducting a peaceful parliament session. All political parties have urged that they want to hold fruitful discussions on various issues including the issues of the farmers," said Mahajan.
Prime Minister Narendra Modi, while addressing the floor of leaders of parties of the Rajya Sabha and Lok Sabha earlier in the day, said that for preserving the institution of democracy in India, it is important that all political parties support the government to conduct business in both Houses of the Parliament without disruption and constructive discussion takes place on issues of national importance.
Prime Minister Modi further urged all parties to extend their support to the government in fighting corruption and the issue of communal violence in the name of cow protection.
"Prime Minister Modi has asked the State Governments to take strict action against the anti-social elements creating violence in the name of cow vigilantism and punish them strictly," Parliamentary Affairs Minister Ananth Kumar said after the all-party meeting here.
"People are trying to give it a political and communal colour, but it is not in favour of the country," he added.
Further commenting on the issue of China, Kumar said that the political parties have already been briefed about the situation of China and India stands united on this issue.
The Prime Minister also called on all the party to support the war against corruption, which has been initiated by the government.
"He (Prime Minister Modi) also expressed concern over the flood like situation on the north-eastern part of the country and asked the state to take action to provide relief to the people," he said.
The Prime Minister expressed gratitude towards all parties for supporting the Government in bringing historic economic reforms like preponing of Budget Session of the Parliament and bringing in the Goods and Services Tax (GST).
The Monsoon Session of Parliament will start from Monday and will continue till August 11.
The Opposition is expected to raise the issue of Jammu and Kashmir in both the Houses, including the implementation of GST and the ongoing clashes in West Bengal.
-ANI