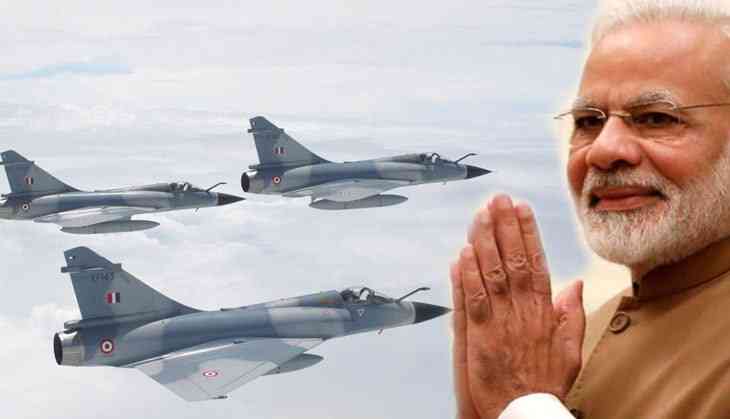 Nationwide celebrations were held throughout the day after the Indian Air Force (IAF) carried out an air strike targeting terror launch pads in Pakistan on Tuesday.
In Bihar's Gaya and Uttar Pradesh's Ayodhya, many diyas (earthen lamps) were lit in honour of the IAF, amid chants of 'Bharat Mata Ki Jai.'
Students of Delhi's Jawaharlal Nehru University (JNU) were seen distributing sweets and throwing coloured powder on each other in a celebratory gesture.
"This attack is a befitting response to any nation that engages in such attacks against India," a student told ANI.
In Moradabad, locals were seen bursting firecrackers and dancing to drumbeats as a mark of celebration of the "pre-emptive" air strike.
Locals in Tripura's capital Agartala and Rajasthan's Jodhpur city, too, burst firecrackers and exchanged sweets.
Slogans hailing Prime Minister Narendra Modi and the IAF were also raised in a number of cities.
In a swift operation launched at around 3.30 am on Tuesday and completed within minutes, 12 Mirage-2000 fighter jets pounded the training centre, housing around 300 terrorists, in Balakot area of Khyber Pakhtunkhwa province with six bombs, while SU-30 combat aircraft maintained air superiority to ward off any retaliation by the Pakistan Air Force, sources said.
The camp, located in a forest area atop a hill, was headed by Jaish-e-Mohammed (JeM) chief Masood Azhar's brother-in-law Yusuf Azhar alias Ustad Gauri, who was involved in the 1999 hijack of Indian Airlines plane IC-814 and was on Interpol lookout notice since 2000.
A large number of JeM terrorists, including top commanders, trainers and those terrorists who were to be the 'fidayeen' (suicide attackers) were eliminated in the "non-military" air strike, India's Foreign Secretary Vijay Gokhale told media while officially disclosing information about the air strike, hours after the action.
-ANI