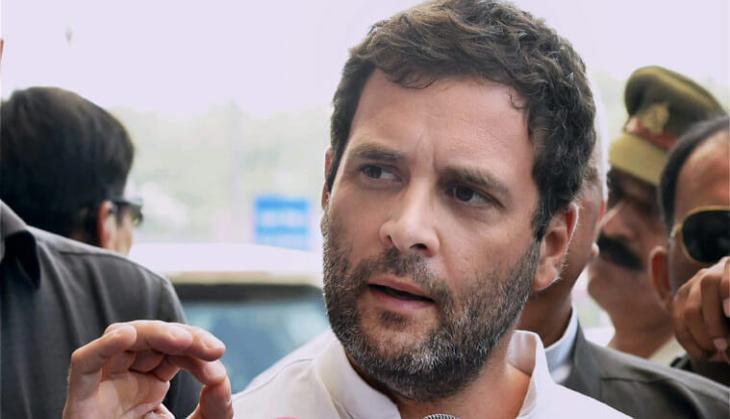 Congress vice-president Rahul Gandhi on Wednesday spoke out against allegations leveled on him by Bharatiya Janata Party (BJP) leader Kirit Somaiya in the AgustaWestland VVIP chopper deal and said he did purchase shops from a mall owned by MGF in the capital, adding he has mentioned the same in his affidavit.
"Yes I did and it is on my affidavit. What is wrong in it?" asked Gandhi.
Responding to the comments of Rahul Gandhi regarding his shops at mall, Somaiya told ANI, "What was your intention behind purchasing the shops? Have you decided to leave politics and start a grocery shop? Rahul Gandhi and his brother- in- law Robert Vadra have started a new scheme, which takes a kick-back with the DLF."
"Rahul Gandhi has admitted that he has bought shops. I would like him to disclose that at what price he bought them and to whom he had given them on lease. He bought them and again sold them to the MGF," he added.
Emaar MGF, however, has rubbished all the allegations saying that, "any and all allegations against the company as levied by Kirit Somaiya are completely false, baseless and malicious in nature."
"Our group company had sold 2 shops in Metropolitan Saket Mall to Congress VP Rahul Gandhi on 06 December 2005. The shops were never leased nor bought back by the company from Rahul Gandhi at any time," he added.
The Congress vice-president on Tuesday dared the ruling BJP at the Centre and said he was happy to be targeted.
"I am always being targeted, happy to be targeted," said Gandhi said while reacting to the BJP's allegations that his one-time aide Kanishka Singh, who is the director of the Emaar-MGF group, was closely linked to the deal.
Somaiya has alleged earlier that the Congress vice-president and Kanishka Singh were connected to Guido Haschke, one of the middlemen in the AgustaWestland deal.
Kanishka has denied Somaiya's allegations saying that, "Mr. Somaiya's allegations about me are entirely baseless, false and with an ulterior political motive. Somaiya has been making these false allegations about me with malafide intent since February 2013."
-With ANI inputs