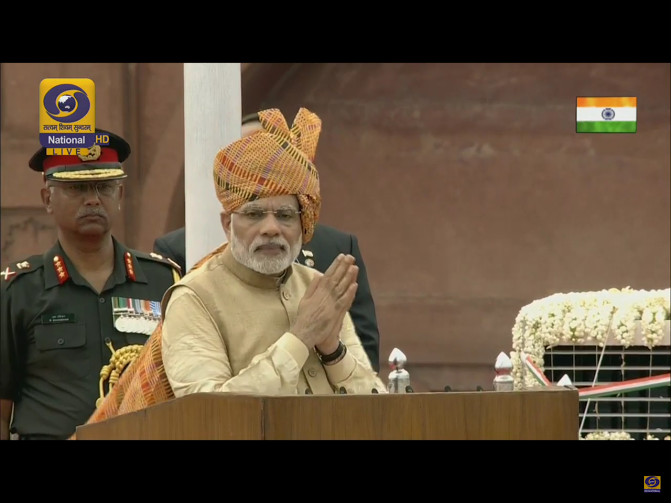 The seven decade-old Ministry of Agriculture Agriculture Ministry will be renamed as the Ministry for 'Agriculture and Farmers' Welfare' with a view to take care of farming community's needs.
Addressing the nation on the 69th Independence Day, Modi stressed on the need to increase agricultural productivity and said the government is making efforts to boost crop yields.
How has the Agriculture Ministry evolved over these years?
Pre-independent India had a combined Department of Revenue, Agriculture and Commerce set up in June 1871.
In 1881, the Department of Revenue and Agriculture was reconstituted as separate departments, but in 1923, the departments of Education and Health were combined with it to form the 'Department of Eduction, Health and Lands'.
In 1945, it was trifurcated into three separate departments of Agriculture, Education and Health. The Department of Agriculture was rededicated as Ministry of Agriculture in August 1947.
What is the current system?
At present, the Agriculture Ministry under Radha Mohan Singh is mandated to devise schemes to incentivise crop production, including by fixing the minimum support price for more than 20 crops.
A separate ministry of consumer affairs, food and public distribution, headed by Union Minister Ram Vilas Paswan looks after procurement of foodgrains and their supplies through ration shops.
So, it is not clear how will the new Ministry seek to benefit farmers in ways other than what is mandated currently.
Just not renaming, there's a bit of rehashing as well
Rural electrification -- a rehash of UPA scheme?
Modi said the government is focusing on raising farm productivity, and providing electricity and irrigation to farmers.
However, the government's Deen Dayal Upadhyay Gram Jyoti Yojana (DDUGY) seems to be a rehash of Rajiv Gandhi Grameen Vidyutikaran Yojana (RGGVY). The Parliament was told in 2014 that UPA initiative was absorbed in DDUGY. As many as 112,287 villages previously without electricity were connected to the grid under RGGVY during the 10th (2002-07) and 11th (2007-12) plans.
Not a very fresh irrigation scheme
He said the Pradhan Mantri Krishi Sinchai Yojana had been launched with an outlay of Rs 50,000 crore. However, during the 11th plan (2--7-2013) an accelerated Irrigation Benefits Programme (AIBP) was launched that covered over 15,000 major and minor irrigation projects. A Business Standard report states that the centre had given a sum of Rs 67,477 crore to various states. The scheme has reportedly generated a total irrigation potential of 9.4 million hectares.
Indeed, under the new scheme the central assistance for irrigation has been slashed.
Neem quoted urea-- not a new idea
The Prime Minister claims that his government innovated the idea using neem-coated urea to boost the falling fertility of India's India's mineral rich soil. However, it emerges that this too is not a new idea.
The Business Standard report quoted parliamentary data that reveals that urea, along with various pesticides, has been coated with neem for 11 years. The report says: "In August 2011, the government increased the ceiling of production of neem-coated urea from the existing limit of 20% to 35% of total production of subsidised fertilisers. (In another statement later that year, the government also informed Parliament of state-wise consumption, along with prices, of neem-based pesticides.)"
However, what this government did was to remove the cap on production of neem-coated urea. In fact The Hindu reported in March this year that the Government had made it mandatory for domestic fertiliser firms to "neem coat" at least 75 per cent of their urea production to save Rs. 6,500 crore subsidy outgo. Justifying the move, Minister of Chemicals and Fertilizers Ananth Kumar had earlier said that neem coated urea is costly by 5% compared to plain prilled urea but it reduces nitrogen loss by more than 10%, thereby incurring a net savings of Rs 13.5 per bag for farmers.
With inputs from PTI