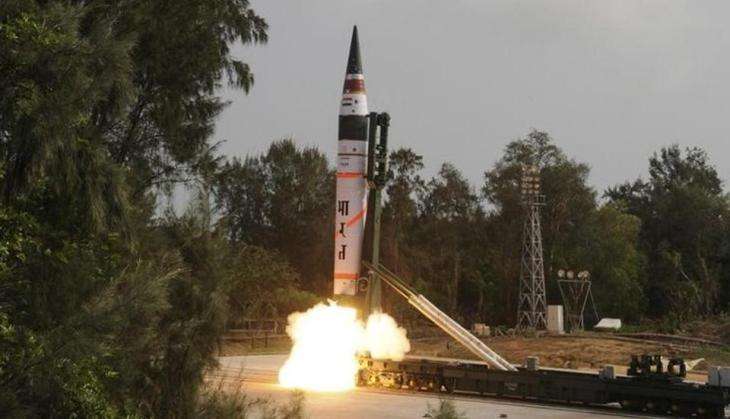 Emphasising the significance of the Agni 5 missile which was launched today, defence experts described this fifth series launch of the missile as a major weapons system with significant deterrent value.
"It is an intermediate range missile. Its range is approximately about 5000 to 5500 kilometres. It has payload capability of about 1500 kgs," Brigadier (retired) SK Chatterjee told ANI.
Further highlighting its significance for the Indian armed force, he said, "It is a major weapon system. If we need deterrence from China and Pakistan, then Agni 5 will help to destroy their premium targets."
Wing Commander (Retd.) P Bakshi also hailed the launch of the missilie and said: "Though we lack in defence, but we have achieved a lot in missile technology. I would like to thank A.P.J. Abdul Kalam for his effort. Agni 5 is a strategic missile that can destroy targets in China in a range of approximately 5000 to 5500 kilometres. It has deterrent value against rival countries."
Former army chief General (Retired) Deepak Kapoor said it is a feather in the cap of India's strategic capabilities.
"Since we have to be prepared for the 'Two Front War', this test strengthens our bid towards such capabilities," he added.
India on Monday test launched its indigenously developed intercontinental surface-to-surface nuclear capable ballistic missile 'Agni,5' from the Wheeler Island off the Odisha coast.
Unlike other missiles of the Agni series, 'Agni-5' is the most advanced having some new technologies incorporated with it in terms of navigation and guidance, warhead and engine.
The indigenously-developed surface-to-surface missile, Agni-5, is capable of striking a target more than 5,000 km.
It is about 17-metre long, two-metre wide and has a launch weight of around 50 tonnes.
The missile can carry a nuclear warhead of more than one tonne.
It is the fourth developmental and second canisterised trial of the long-range missile.
While the first test was conducted on 19 April 2012, the second test was carried out on 15 September 2013, and the third on 31 January 2015 from the same base.
-ANI