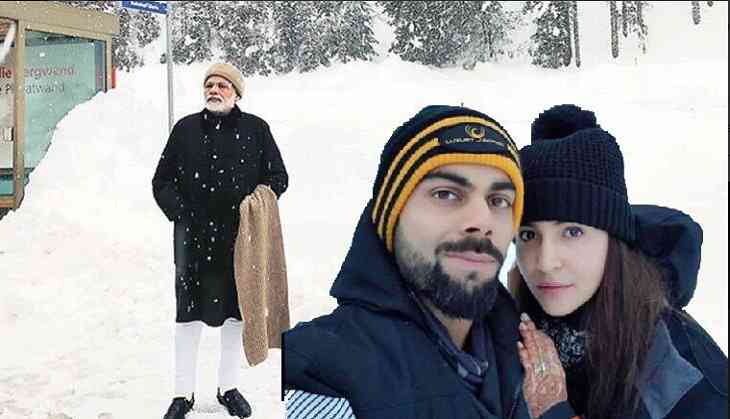 Indian Prime Minister, Narendra Modi is one such person who leaves his mark wherever he goes. Be it another state or a country, he manages to catch the attention of many with his words and actions and sometimes with his picture.
Recently, Modi visited Davos, Switzerland to attend the World Economic Forum that caught the attention of the media people from all over the globe as it was a very special moment for our country since he was the first PM who attended the event in two decades. During the event, he gave a speech that included many important issues like that of terrorism, climate change and protectionism challenges.
Well it was not only his speech but a picture of PM Modi that went viral on the internet and Twitterati could not stop itself from making hilarious comments on the photo. This is the second picture that has been clicked in Switzerland that got hilarious reactions from the Tweeple as the first picture was that of Virat Kohli and Anushka Sharma's honeymoon selfie.
ALSO READ: The Pakistani fans of Virat Kohli and Anushka Sharma edited their honeymoon picture and the result is hilarious!
Check out the picture of Narendra Modi first: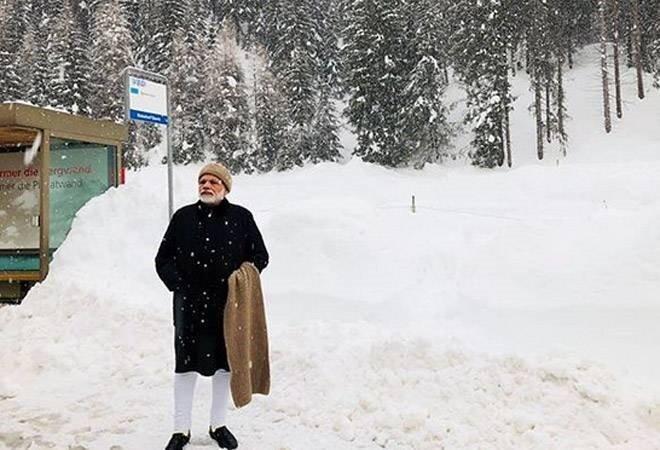 Check out the funny reactions that the Twitterati gave on his picture:
#ModiAtDavos 😹😹😹 pic.twitter.com/DUwueN6xqL

— Freelance 007 (@James_Beyond) January 23, 2018
Wow, Modi ji "North of the wall" ka bhi tour ker aaye. pic.twitter.com/gRqtSEM9yQ

— Akram 🇮🇳 (@akramismm) January 23, 2018
Pic 1: Zara SA jhoom loon main ~ Kajol (1996)
Pic 2: Zara SA ghoom loon main ~ Modi (2018)#Davos2018 #WorldEconomicForum2018 pic.twitter.com/8Kpzt1mI21

— Shaitaan Khopdi™🇮🇳 (@shaitaankhopdi) January 23, 2018
😂😂😂😂😭 pic.twitter.com/uHpVNenX5Y

— sane_insane (@Aawara86) January 23, 2018
I have photoshopped an Eskimo's photo . Not this one pic.twitter.com/XOTC6kQ74Q

— HUMANITY ABOVE ALL (@Kashif_DXB_KNN) January 23, 2018
January 23, 2018
When you are getting late for the meeting but it's her first time in a snowfall pic.twitter.com/gyWWIbsbcb

— ㅤ ㅤ ㅤ ㅤ ㅤ ㅤ ㅤ ㅤㅤ ㅤ ㅤ ㅤ (@firkiii) January 23, 2018
Choose your favorite Snow picture. pic.twitter.com/NKM0FjctBN

— Trendulkar (@Trendulkar) January 23, 2018
Ab thik ha😂😂😂 pic.twitter.com/HyTAZIxEss

— Amit Malware (@neut_real) January 23, 2018
January 23, 2018
WINTER IS COMING pic.twitter.com/GfTuYE4cre

— Ad. Gen. अलादीन (@vickytnwr) January 23, 2018
World Employment Forum pic.twitter.com/8gJM5lrjAX

— M (@wazzamata) January 23, 2018
WITH JACK AND ROSE ON TITANIC pic.twitter.com/agczalCEFO

— Ad. Gen. अलादीन (@vickytnwr) January 23, 2018
Virat Kohli ne modiji ko pic se crop kyun kiya 🤔

Pic1: Real pic

Pic2: Cropped pic pic.twitter.com/Bv2rwWb0qe

— Akshay Jain (@AkshayKatariyaa) January 23, 2018
ALSO READ: Watch Video: Narendra Modi, Donald Trump and Hillary Clinton dancing on 'Rashq-e-Qamar' will motivate you to hit the dance floor
#ModiJiRoxx