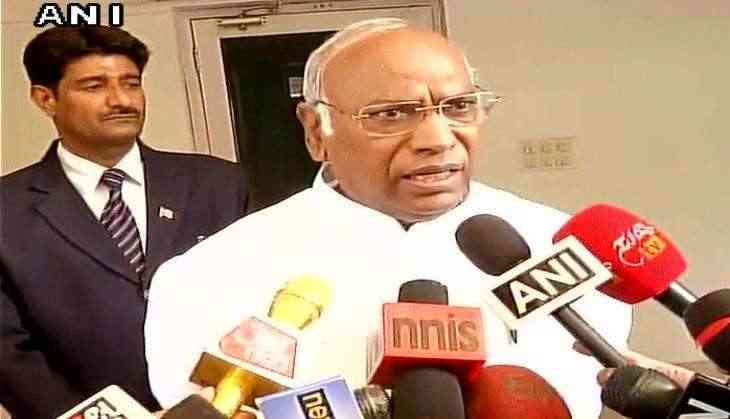 Opposition leader Mallikarjun Kharge (ANI)
After TDP (Telgu Desam Pary) and YSR congress-supported no-confidence motion, the Congress today on 23 March, moved a no-confidence motion against Narendra Modi-led government in the Lok Sabha. It is third party to do so.
Congress leader Mallikarjun Kharge requested to the Lok Sabha secretary general giving notice to include the no-confidence motion in the list of business.
"This House expresses No-Confidence in the Council of Ministers," the notice stated
"Under Rule 198 (b) of Chapter of the Rule of Procedure and Conduct of Bussiness in Lok Sabh, I hereby give notice to move the following motion in the House on 27-03-2018," the notice added.
Earlier, the no-confidence motion moved by TDP and YSR could not be taken up due to the continuous disruption and obscurantism by opposition parties mainly led by AIDMK and TRS members. YSR Congress and TDP MPS had met the Speaker and demanded to take up their no-confidence motion immediately and start the debate in the House.
The budget session of the Lok Sabha is undergoing adjournment and stalemate. Various politicians so far expressed concern over the functioning of the House.
Lok Sabha speaker Sumitra Mahajan said that she cannot take up the notices for no-confidence motions since the house is not functioning in order. The requisite head-count of members supporting the notices is not possible if they are in their seats.
At least 50 members are necessary to support a no-confidence notice for the House to accept it and start a debate. When YSR Congress moved no-confidence motion, the ally of the BJP Shiv Sena refused to support the government.