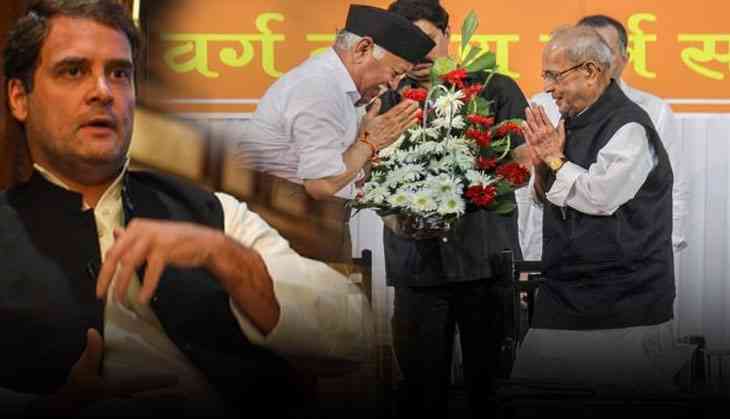 After the former Indian President Pranab Mukherjee, the Rashtriya Swayamsevak Sangh (RSS) is all set to invite its sharpest critic, Congress President Rahul Gandhi, for an event next month in Delhi, the sources revealed.
The event will be held between September 17 and 19 at Vigyan Bhawan in Delhi. But apart from the Rahul Gandhi, several other opposition leaders, like the left leader of Sitaram Yechury, are also likely to be invited.
Earlier the Congress was upset when former President Pranab Mukherjee, a veteran leader of the Congress, attended an event at the RSS headquarters in Nagpur and addressed workers.
Rahul Gandhi had even compared RSS with Muslim Brotherhood during his Europe tour. Rahul Gandhi in London cited that "RSS is trying to change the nature of India. Other parties haven't tried to capture India's institutions. RSS's idea is similar to the idea of Muslim Brotherhood in the Arab world".
While Mohan Bhagwat cited at a function in April that "The language of 'mukt' (free) is used in politics. RSS does not use such language,"
Also Read: Teen Murti memorial: 'Don't Wipe Out Nehru's Legacy', PM Modi gets tough message from ex-PM Manmohan Singh