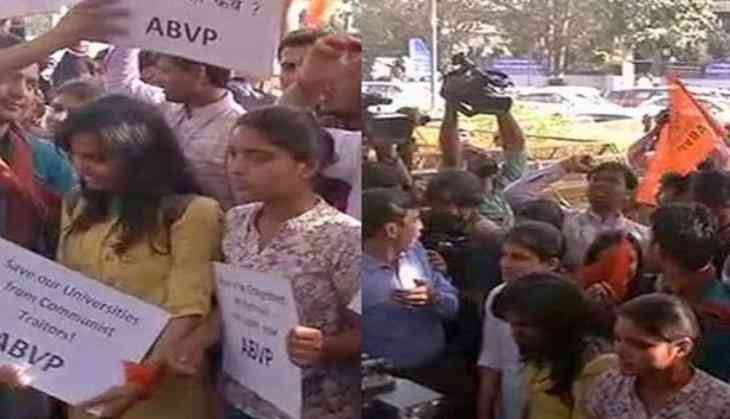 The Bharatiya Janata Party's (BJP) youth wing Akhil Bharatiya Vidyarthi Praishad (ABVP) staged a protest outside the Delhi Police Headquarters here on Wednesday demanding action against the 'anti-India' slogans that were raised at the Jawaharlal Nehru campus last year.
The ABVP members, who claimed that appropriate action was not taken in the case, also held a 'Tiranga' march in Delhi University's South Campus. They carried flags, banners and raised slogans of 'Vande Mataram' during the march.
Earlier in the day, two ABVP members were arrested for allegedly attacking the All India Students' Association (AISA) supporters.
The duo were later released on bail and then suspended by the ABVP.
The ABVP will tomorrow be organizing a peaceful demonstration in order to restore peace on the campus and to call for exclusion of the Left wing.
The students of Delhi University yesterday staged a protest against the ABVP at SGTB Khalsa College after the student group was accused of attacking students, lecturers and journalists on the campus.
Clashes erupted last week after the ABVP students allegedly manhandled and thrashed students protesting the cancellation of an event at Ramjas College at which controversial Jawaharlal Nehru University (JNU) student Umar Khalid was scheduled to speak.
-ANI