Somi Das
| Updated on: 29 July 2015, 18:21 IST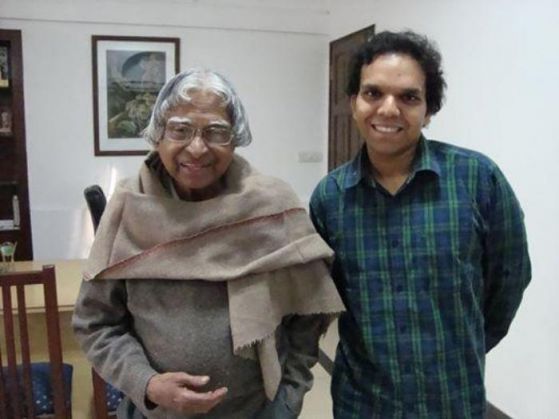 In tribute to former president of India APJ Abdul Kalam, Parliament has been adjourned till 11 am, 30 July.
However, Kalam's trusted aide Srijan Pal Singh posted on Facebook that frequent adjournments and unproductive Parliament sessions weighed heavily on Kalam even on his last day.
Singh, who has co-authored two books with Kalam said, "He was very worried and said he had seen the tenures of many governments, but disruption keeps on happening every time. He had told me to prepare a surprise assignment question for the students which would be given to them at the end of the lecture."
He even wanted to include this discussion in his forthcoming book, Advantage India.
Parliament has seen repeated disruptions and adjournments since 21 July. Both houses of Parliament failed to transact any significant business, and important bills like GST and land acquisition are pending.
Terrorism too disturbed him gravely
Another issue that Kalam ruminated about on his last day was terrorism. Singh wrote in his Facebook post, "He was absolutely worried about the attacks in Punjab. The loss of innocent lives left him filled with sorrow. The topic of the lecture at IIM Shillong was Creating a Liveable Planet Earth. He related the incident to the topic and said, "It seems man-made forces are as big a threat to the liveability of earth as pollution".
Singh recalls his 'Kalam moments'
He didn't want to be late for the lecture. "Students should never be made to wait," he always said. I quickly set up his mike, briefed him on his final lecture, and took my position at the computers. As I pinned his mike, he smiled and said, "Funny guy! Are you doing well?" 'Funny guy', when said by Kalam, could mean a variety of things, depending on the tone and your own assessment. It could mean, you have done well, you have messed up something, you should listen to him or you have been plain naive. Or he was just being jovial. Over six years I had learnt to interpret Funny Guy like the back of my palm. This time it was the last case.

"Funny guy! Are you doing well?" he said. I smiled back, "Yes". Those were the last words he said to me. Two minutes into the speech, sitting behind him, I heard a long pause after he completed a sentence. I looked at him, he fell down.

We picked him up. As the doctor rushed in, we tried whatever we could. I will never forget the look in his three-quarter closed eyes and I held his head with one hand and tried reviving with whatever I could. His hands clenched, curled onto my finger. There was stillness on his face and those wise eyes were motionlessly radiating wisdom. He never said a word. He did not show pain, only purpose was visible.

In five minutes we were in the nearest hospital. In another few minutes the they indicated that the missile man had flown away, forever. I touched his feet, one last time. Adieu old friend! Grand mentor! See you in my thoughts and meet in the next birth.
Singh will keep Kalam's Twitter handle alive. He would be regularly posting inspirational quotes from his books - 'Wings of Fire', 'India 2020' and 'Ignited Minds'. The twitter page has been renamed to In Memory of Kalam.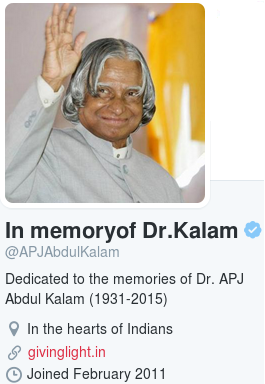 Kalam's book Advantage India, which also has been co-authored by Singh is due to release later this year.