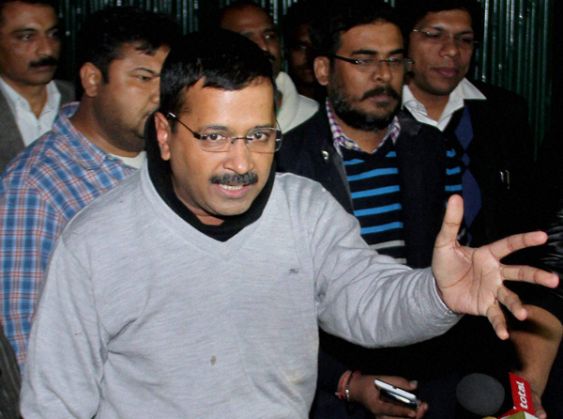 When Arvind Kejriwal took oath as the Delhi Chief Minister, on 14 February last year, he made many promises. One of the highlights of speech was his promise to sweep Delhi clean of corruption.
He said:
"If anyone demands bribe from you, don't say no. Unse setting kar lena aur humare diye huye helpline pe call karna".
Soon after coming to power, Kejriwal promoted another idea - sting operations by common people to oust corrupt officials. Many wondered if Kejriwal was raising an army of vigilant citizens or promoting vigilantism.
The AAP website lists the following achievements as being proof to its fight against corruption. Here they are, verbatim:
- Three top govt officials KK Goswamy(Deputy Secretriat land and building division), Kiran Taneja(MCD), JL Kathuria(MCD) arrested on corruption charges.
- Chief water analyst Vinod Kumar, meter reader Atul, Patwaari Sunil caught on camera taking bribe suspended in 30 minutes of telecast of news Aaj Tak Channel
- AAP government suspends 3 Delhi Jal Board officials and shifts 800 others.
- Software to deal with corruption
- Biometric attendance system/devices for Babus
- Arvind Kejriwal seeks 40 anti-graft officers, gets some from the police department
- Anti-corruption helpline launched.
- AAP MLA Somnath Bharati launched website to manage public utility complaints -www.aapconnect.com
- Kejriwal government tables Jan Lokpal Bill and both Congress/BJP oppose the move.
- Two constables arrested in extortion case. This was done through the AAP introduced anti-corruption helpline.
- New anti-corruption helpline number is 1031, in 36 hours 23,000 calls received, one official has been trapped.
- Kejriwal orders CAG audit of Delhi's Bus Rapid Transit operator
- Case against Mukesh Ambani, Moily over gas scarcity, pricing.
However, Arvind Kejriwal has received much flak for not acting against former Chief Minister Sheila Dikshit for her alleged involvement in the CWG scam.
In September last year the Delhi government had, in response to an RTI query, stated that only one complaint was received from a Ludhiana-based resident against Dikshit.
On the positive side, the AAP party tried to address the alleged corruption and political nexus in Delhi private schools by scrapping of all quotas except for the Economically Weaker Section.
The government also launched an investigation into the DDCA scam and questioned finance minister Arun Jaitley's role in it. Jailtey was at the helm of affairs in the cricketing body for over a decade.
But with all the high-decibel press conferences and controversies that the party courted in its attempt to project itself as anti-corruption crusaders, one question that it needs to answer is -- if at all there is any tangible reduction in corruption in the national capital.
A survey by the Centre for Media Studies- sheds some light on the changing perception of people about corruption in Delhi.
The study, titled India Corruption Study 2015: Perception and Experience with Public Services in Delhi, found that Delhi residents felt there was a reduction in corruption in sectors like the PDS system, electricity and health care was better than that of the services under the central government and the Municipal Corporations.
In fact, CMS found that corruption was rampant in the Delhi Police - a point which emboldened Kejriwal to buttress his arguments in favour of bringing the force under the state.
Quoting the findings of the study he tweeted: "Shocking findings CMS survey 2day-Del police (under Modiji n his LG) most corrupt- scathing attack on Modiji's capbilities n intentions (sic). "Modi ji stop being stubborn, work with us. Hand over ACB and police to Delhi Government. We will deliver in a year," the chief minister said in a series of tweets.
Several services like the Police, the Railways and LPG services are directly under the Central government. The issues of building plan sanctions and garbage, some schools, birth and death certification and park and community halls fall under the Municipal corporation.
This demarcation of services explains why the AAP is in loggerheads with central government, the Delhi Police and the Municipal Corporations - the most recent tussle being the MCD strike over non-payment of salaries.
When one of these sectors are accused of corruption, this demarcation makes it easy for the government to shrug off corruption charges. While this has been a year of confrontation for the AAP government, the Kejriwal-led party needs to find a comprehensive method to actually reduce corruption.