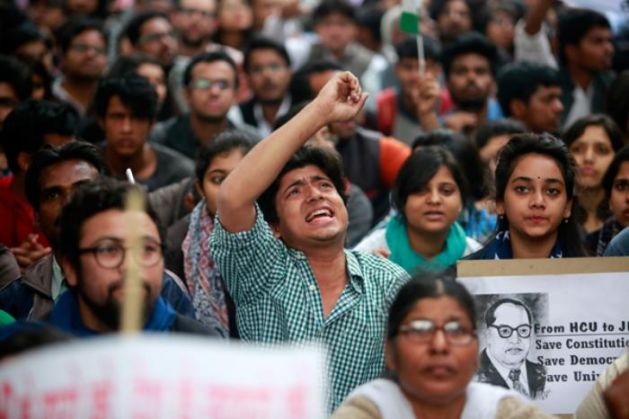 What transpired in Jawaharlal Nehru University on 9 February has taken the whole nation by storm. Here is the timeline to the issue-
9 February
Ex-members of the JNU's students' organisation Democratic Students Union organise a cultural program and a protest march at the varsity's Sabarmati Dhaba - to protest the "Judicial Killing of Afzal Guru" and to display solidarity with Kashmiri migrants.
According to media reports, the protest was organised by Umar Khalid, a PhD student from JNU along with Anant Prakash Narayan, Ashutosh Kumar, Rama Naga and Anirban Bhattacharya.
The Akhil Bhartiya Vidyarthi Parishad (ABVP) stage a protest outside the office of the vice chancellor, demand that the organisers of the "Afzal Guru event" be expelled.
10 February
JNU sets up a proctorial committee to inquire into an event organised by some former members of Democratic Students' Union (DSU) that led to violent clashes on the campus.
11 February
Maheish Giri, the BJP Lok Sabha member from East Delhi lodges an FIR against 'anti-national' students of Jawaharlal Nehru University who opposed the death penalty to parliament attack convict Afzal Guru.
12 February
Home Minister Rajnath Singh warns of "strongest possible" action against those involved in raising anti-India slogans at an event in JNU campus here, saying such activities will not be tolerated.
Former Delhi University lecturer SAR Geelani booked for sedition in connection with an event at Press Club of India, in which a group shouted slogans hailing Parliament attack convict Afzal Guru.
Delhi police arrest president of Jawaharlal Nehru University's students union (JNUSU) and member of student organisation of All India Students' Federation (AISF) Kanhaiya Kumar, in a case of sedition and criminal conspiracy. Charges also slapped on Umar Khalid and other four students.
Students of JNU call for a shutdown, demanding Kanhaiya's release. #JNUShutdown trends. Students boycott classes. Teachers and civilians join in the protests.
Left parties question the arrest of JNUSU president Kanhaiya Kumar and condemn Delhi Police's action in the campus, alleging that the police is hand-in-glove with ABVP when it comes to "targeting the entire Left".
Union minister Kiren Rijiju says the government will not allow anyone to spread anti-national sentiment in the country.
Eight students debarred from academic activities by JNU following a disciplinary inquiry into an event at varsity against hanging of Parliament attack convict Afzal Guru.
13 February
A group of ex-army officials threaten to return their degrees as mark of protest.
Communist Party of India-Marxist General Secretary Sitaram Yechury meets Union Home Minister Rajnath Singh over row.
Delhi Chief Minister Arvind Kejriwal orders a magisterial inquiry into the JNU incident and accuses Prime Minister Narendra Modi of using police to "terrorise everyone" even as he asserted that anti-national activities should not be tolerated under any circumstances and those guilty must be identified and punished.
Congress Vice-president Rahul Gandhi visits the campus and says the Modi government is "bullying" an institution like JNU. Gandhi says that anti-India sentiments are "unquestionably unacceptable".
14 February
"Please do not call my son a terrorist," says JNUSU President Kanhaiya's mother.
Rajnath Singh appeals to political parties to unite. Delhi police says enough evidence for sedition charges.
15 February
JNU students go on strike, demanding release of Kanhaiya Kumar.
Shiv Sena says all politicians who support the students' agitation should be stripped off their 'elected status' and says that those raising slogans against India must be put behind bars.
BJP president Amit Shah attacks Congress vice-president Rahul Gandhi for his stand on the Jawaharlal Nehru University row.
Delhi Police Commissioner B S Bassi tells media, "Kahaiya Kumar had joined the meeting in the campus where anti-national slogans were raised. He also raised these slogans."
A brawl takes place at the Patiala House court, after about 40 lawyers present inside the court shout slogans against the Jawaharlal Nehru University asking the institute's faculty to leave the court.
16 February
Delhi police formally arrests ex-Delhi university teacher SAR Geelani in connection with the JNU campus row case and launches a hunt for several students who are on the run..
The Delhi High Court rejects petition seeking NIA probe into JNU incident.
Delhi journalists stage a protest march against the violence that took place in Patiala House Courts on 15 February, where some of them as well as students were beaten up.
Students of Aligarh Muslim University (AMU) take out a protest march against alleged police excesses at the JNU campus even as they condemn the anti-national slogans raised during the JNU protest.
Vishwa Hindu Parishad (VHP) and Bajrang Dal activists stage a protest outside JNU.
In Kolkata, students of the Jadavpur University shout slogans and organise a torch rally to show solidarity with Kumar.
17 February
Supreme Court summons Delhi Police counsel again after some lawyers assault JNU students' union president Kanhaiya Kumar at Patiala House Court.
Kumar applies for bail in Supreme Court.
Eminent scientists and writers from across the world, including renowned thinker Noam Chomsky and Nobel laureate Orhan Pamuk, join the chorus of protest against the arrest Kumar.
455 academicians from universities across the globe signed a petition which read: "JNU stands for a vital imagination of the space of the university - an imagination that embraces critical thinking, democratic dissent, student activism, and the plurality of political beliefs. It is this critical imagination that the current establishment seeks to destroy. And we know that this is not a problem for India alone".
18 February
SC rejects Kumar's bail plea, asks his counsel to move the high court.
19 February
Umar Khalid's family allegedly receive death threats.
Almost half a dozen students injured when police lathi-charge students after a scuffle broke out in Jaipur University over the issue.
22 February
Umar Khalid and the other members facing sedition charges return to the JNU campus late on 21 February.