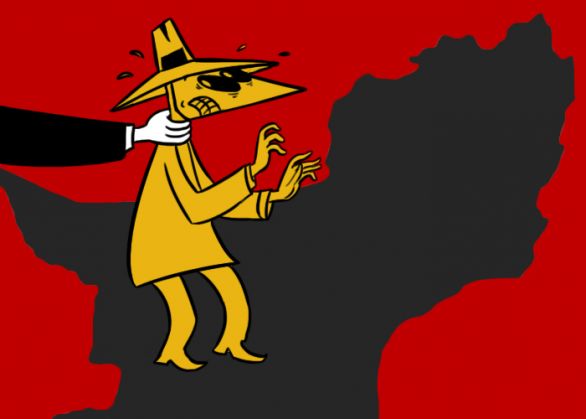 A passport obtained from Pune in November 2003, identifies Kulbhushan Jadhav, the man arrested in Pakistan as an Indian spy, as Hussein Mubarak Patel.
According to this passport, Jadhav was born in 1968, joined the National Defence Academy in 1987, and was commissioned as a Naval engineer in 1990. His colleagues in the Navy say that he became a commander after 14 years of service.
Just a few months after this passport was issued, Jadhav told his family that he was going to Iran's Chabahar free trade zone to set up a business to service boats that operated out of the port.
A friend of Jadhav from the Navy said Jadhav had hinted that he took premature retirement from the service because of some government-linked activity, says The Indian Express.
His address on the passport is incomplete - it does not mention even the building number, let alone the flat number. The secretary of the building named in the passport said that no one by the names of Kulbhushan Jadhav or Hussein Mubarak Patel had ever resided there, and that no residents recognised Jadhav from a photograph.
The Pune passport office computer system displays electronic tags that show Hussein Mubarak Patel had held an earlier passport, but since that was issued before records were computerised, there are no details.
A Delhi Police official said that this was a common way to create a fake identity. "The fact that there is an earlier passport with valid visas makes getting new ones that much easier," he said.
However, a former R&AW official points out that there was no need for subterfuge if Jadhav had truly been a member of the intelligence service. "Let's put it this way: there are systems in place to handle this kind of thing," he said.
Lack of records in Iran means that little is known about Jadhav there, but government sources say he owned a cargo-shipping business and dealt in scrap metal.
"There's a lot of people-trafficking through Chabahar with traffickers routing migrants from India and Pakistan seeking to go west," said a Chabahar-based Indian businessman.
Because it is on a border, Chabahar sees the trade of much intelligence, which makes it a key area of agencies including R&AW.
Jadhav was arrested in Pakistan with a passport issued from Thane in 2014, with an address citing a flat that municipal records show was owned by his mother, Avanti Jadhav. Avanti Jadhav had told the building cooperative society that he was a close family friend.
"He came just once every few years but would talk to everyone," said a shopkeeper on the ground floor of the building. Jadhav told a resident that he spoke excellent Marathi because he was a Muslim businessman born in Satara, Maharashtra. He visited this building for the last time in November 2015, says a resident. "There was another man with him. They were talking about vacating the flat and selling it," he said.
India is now tapping sources in Iran to learn whether Jadhav was lured to Pakistan, or kidnapped. "The fact that he was caught with a passport is a giveaway. We might not be the world's greatest spies, but we are not idiots either," said an intelligence official.