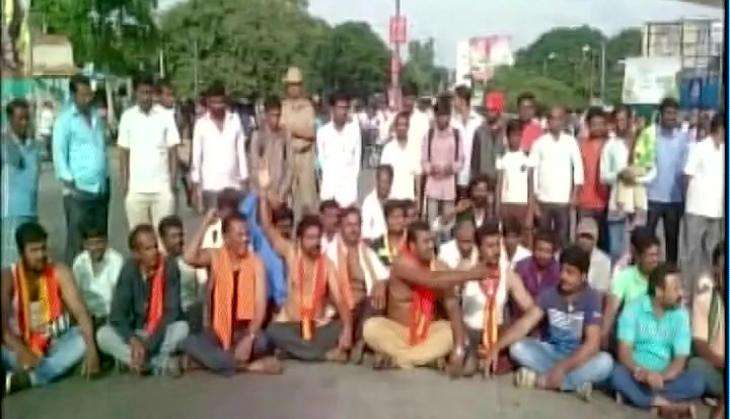 After the Supreme Court directed Karnataka government to release 15,000 cusecs of water to Tamil Nadu for the next 10 days, farmers and activists from pro-Kannada outfits protested in various parts of Karnataka against the Supreme Court's directive.
According to a report in Deccan Chronicle, Chief Minister Siddaramaiah convened a meeting of legislature leaders and MPs in Bengaluru to discuss the issue.
The Cauvery Hitarakshana Samithi (Cauvery protection committee) called for a bandh on Tuesday in Mandya, even as farmers and others hit the streets protesting the top court's directive.
Agitated farmers and activists belonging to pro-Kannada outfits blocked Bengaluru-Mysuru Highway as protests intensified.
Earlier, buses travelling between Karnataka and Tamil Nadu were blocked in Tamil Nadu. For safety, the Karnataka government has pulled off 700 of its buses travelling from Bengaluru and Mysuru to Tamil Nadu and Kerala, NDTV reported. Schools and colleges in the district have been closed for the day.
Cauvery water issue: Farmers protest in Shrirangapattana taluk of Mandya, block road #Karnataka pic.twitter.com/pVM2UBuQQR

— ANI (@ANI_news) September 6, 2016
The farmers' leader also warned the government that it would face strong agitation if water was released to Tamil Nadu.
According to a report in Deccan Chronicle, protests broke out in other parts of the state including Chamrajnagar, Mysuru and Hubballi. 'Karnataka Okkuta', an outfit led by Vatal Nagaraj, called for a 'Karnataka bandh' on 9 September.