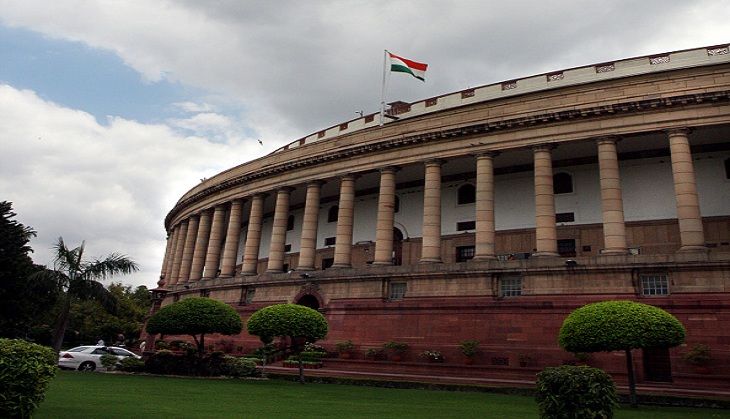 There will be 53 farewell speeches at the Rajya Sabha today as its members elected from state legislatures retire, including 16 from the Congress and five BJP ministers. Some of them may return for the next Parliamentary session in July, but some may not.
The BJP ministers retiring include Venkaiah Naidu, Piyush Goyal, Nirmala Sitaraman, YS Choudhry and Mukhtar Abbas Naqvi. Naidu is the Parliamentary Affairs and Urban Development minister and was elected from Karnataka. Now that Vijay Mallya, wanted for loan repayments and money laundering, has resigned from the Rajya Sabha, Naidu could return for the Monsoon session in Mallya's place.
However, if he wants to return from his home state, Andhra Pradesh, the BJP will have to turn to the state's ruling TDP for help, says NDTV.
Meanwhile, if commerce minister Nirmala Sitaraman is to remain in the Cabinet, she will have to be elected from another state. Sitaraman was elected for a two-year term from Andhra Pradesh. This time, the TDP is unlikely to give the BJP two of its four seats.
Power minister Piyush Goyal will probably return from Maharashtra, where the BJP-Sena combine have the most seats. BJP member Ram Jethmalani is unlikely to return, given his poor relations with the ruling party.
Among the Congress, Jairam Ramesh may return if Telangana's ruling TRS party can be persuaded to give him a seat. However, Hanumanth Rao and JD Seelam may not come back. As Congress's Vijay Darda from Maharashtra retires, his seat is being fought over by Sushil Kumar Shinde, Gurudas Kamat and Mukul Vasnik.
Members from Uttar Pradesh in the new session will include two from the BSP, one each from the Congress and the BJP, with the rest from the Samajwadi Party. The BJP may bring back minister Mukhtar Naqvi from UP.
Five JD(U) members are retiring from Bihar; two seats will remain with the party while the RJD will get two and the BJP one.
Four vacant seats from Rajasthan may be occupied in July by the BJP, so the Congress' Anand Sharma has shifted to Himachal Pradesh.
Former defence minister AK Antony will also make his farewell speech today. Whether he will return next term depends on the outcome of the Kerala assembly elections.
Three Congress MPs from Punjab retire today, but only two seats will be available to the party in the next session. The Congress may attempt to bring in former finance minister P Chidambaram in place of Oscar Fernandes from Karnataka, but Chidambaram is from Tamil Nadu and Karnataka's state Congress unit does not want an outsider to occupy its seats.