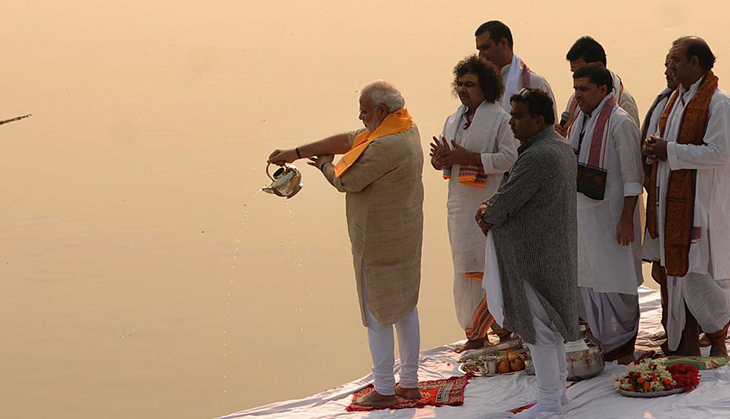 On 17 May 2015, Prime Minister Narendra Modi took a pledge on the banks of the Ganga. He said he would serve 'Maa Ganga' and end her misery.
The Modi government set up a separate ministry headed by Uma Bharti to oversee the work to clean and rejuvenate the Ganga. The Union Cabinet approved a budget outlay of Rs 20,000 crore for the mission - to be spent over the next five years under the Namami Gange Mission.
This was almost ten times the amount allocated in the previous cleaning programmes - namely, the Ganga Action Plan phase I and II. The government also declared a 100% tax exemption for those contributing to the clean project in 2015-2016.
However, a number of promises made under the ambitious project are yet to materialise. Take a look:
1) Calling the 'Clean Ganga' scheme a failure, the National Green Tribunal slammed the Centre and Uttar Pradesh government for their failure to clean River Ganga in Varanasi.
2) A major roadblock that the scheme is yet to overcome is the issue of sewage discharge into the river. Nothing concrete has been done so far to manage the massive waste disposal (2700 million litres a day (MLD) from all the cities located alongside the banks of the river.
Experts claim that a significant amount of funding from the scheme is going into the construction of sewage treatment plants - a move that might prove to be detrimental to river conservation as it is related to urban waste management.
3) A major hindrance is the tussle between the Centre and the states. Most of the states through which the Ganga flows are governed by opposition parties. The scheme is now 100% centrally funded, but is still implemented by local authorities.
4) Corporate houses in the country have shown no interest in funding the project under CSR. Data from the corporate affairs ministry has shown that among all projects of the Narendra Modi government, the Swachh Bharat and Namami Gange have received least amount of funding from private companies in the year 2014-15.
5) The government plans to implement river-interlinking. However, environmentalists claim this could obstruct the natural ecology of rivers.
According to experts, dams would not help to add river flows in the Ganga basin - which is topographically flat. These dams could also reportedly threaten the forests of the Himalayas and impact the functioning of the monsoon system and leading to serious climate change concerns.